They're two of the most eligible Irish bachelors so it was really only a matter of time. Word is on the street that Hozier and Saoirse Ronan have gone on secret dates in Dublin, according to the Irish Sun.
The rumoured pair may have gotten cozy whilst filming the video for Hozier's song Cherry Wine earlier this year.
A source told the Irish Sun: "They really enjoy each other's company, they seemed to be having a ball. They make a very cute and extremely talented couple."
Aw.
23-year-old Saoirse has been making a lot of headlines in the music world lately, thanks to a starring role in Ed Sheeran's Galway Girl video, which was released last week.
But we can't, nay we mustn't let ourselves get too excited for a long-term relationship - it seems Saoirse's prolonged stint in Ireland might be coming to an end soon if her IMDB is anything to go by:
Advertisement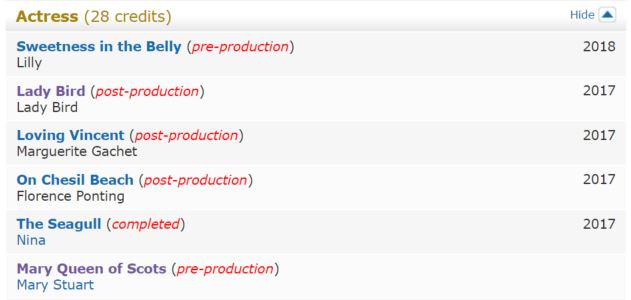 The talented Oscar-nominee has 6 movies in pre or post-production including Mary Queen of Scots alongside Margot Robbie.
We hope Saoirse finds the right lad and if it's Hozier, we're delira.