It's less than two weeks to go until Forbidden Fruit Festival on the June Bank Holiday weekend. Bulmers Forbidden Fruit festival signals the start of the summer festival and this year's line up is class.
Fontaines D.C. have been added to the Monday line up. The Irish post-punk band have released four critically acclaimed AA side singles, all of which received considerable support both from radio and international press. They recently appeared on one of the USA's most influential TV shows, The Tonight Show with Jimmy Fallon, where they performed two songs, Liberty Belle and Boys In The Better Land. These guys are set for big things, they have a sell-out US tour looming and global touring on the horizon. Taking to the stage at Forbidden Fruit will be their biggest home show to date.
Fontaines D.C and six more acts Chaos in the CBD, Lava La Rue, Mathman, Al Gibbs, Kodu and Malaki were added to the line up of acts already filled to the brim with amazing artists. One of the highlights of this year's line up is English producer Jon Hopkins, who blends his classical music training with electronic music to bring a genre described as ambient, intelligent dance music.
Get your highlighters ready, the full breakdown of stage times have also been revealed: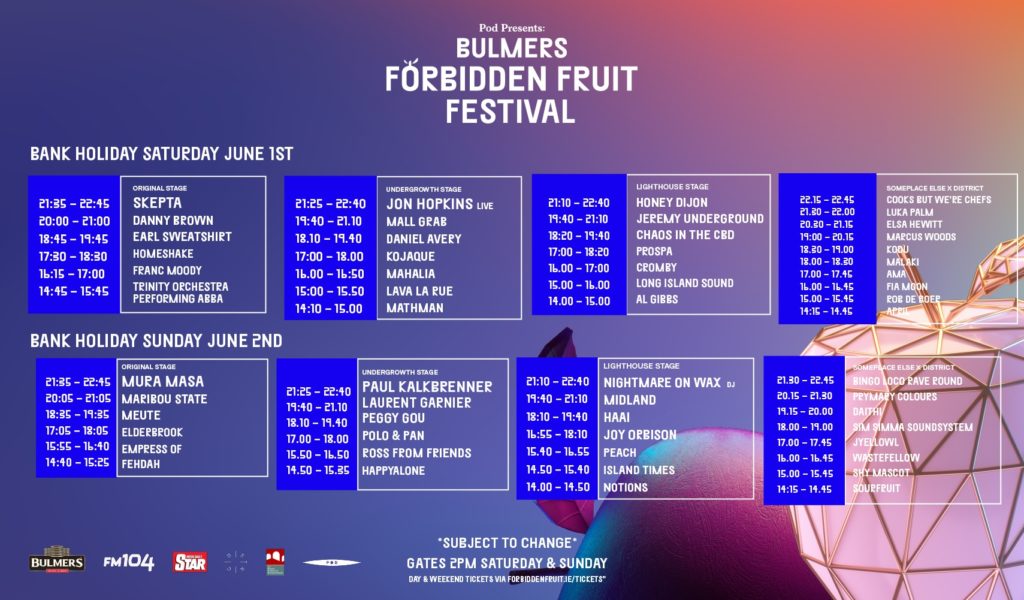 As the festival winds down, the Monday line up always has a more laidback vibe. Headlining on the main stage on Monday is cinematic British rock band Elbow, who are guaranteed to close the weekend with an incredible performance.
Advertisement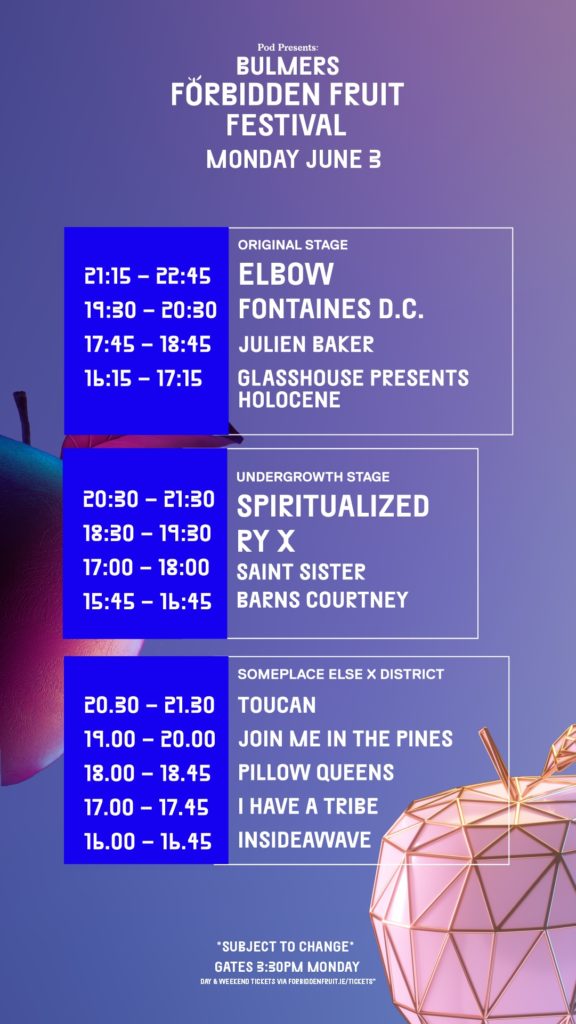 Tickets are still available, however, they are limited tickets for the Three-Day Weekend and the Sunday only ticket. Don't miss out, you can purchase your ticket at Ticketmaster.
You can also find out more about the full line up here.