Gogglebox Ireland is the show that just keeps on giving. The program has been a breakout success with families and friends from across the country giving running commentary. Have a look at a couple of stellar moments from tonight's show. Can't we all be on it?
1). Tracie and Anita are the new Ant & Dec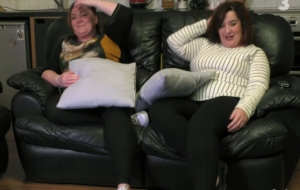 2). "There's our Agnus!" - Anita proving her fandom as she lept off the couch when Ms. Brown came on the Ant and Dec show
Advertisement
3). Dawn and Dale trying to spell is everyone every time.
4). "Imagine going on telly and not brushing your hair!" - Anita giving advice to people who might be going on the telly
Advertisement
5)."Oh there's money in that!" - the Cavan twins debunking the myth that Cavan people are scabby
http://giphy.com/gifs/embarrassed-facepalm-martin-freeman-HzTYLfsbJqa2Y
6). Chloe from Portlaoise snorting when she talks about how sexy rugby men are is the best thing ever
7). Nobody knows the difference between Mel and Sue. Who are Mel and Sue?
Advertisement
8). The Cavan twins on rugby: "It suits farmers to play rugby. Gym muscle is fake muscle"
9). "What's a fat Johnny Depp" - the word on everyone's lips
Advertisement
@robdelaney @SharonHorgan - my googling is your fault.........#FatJohnnyDepp #Catastrophe pic.twitter.com/DmOM5EENZI

— The Ferrari 348 (@theferrari348) February 28, 2017
10). "Kids love doing shit like that" - The Cavan twins on why children love learning to spell.
Advertisement
Oh Gogglebox!
Add us on Snapchat: @collegetimesct