Summer weather only means one thing - Love Island is just around the corner.
Caroline Flack has announced that Love Island 2019 will begin filming this week.
With only a few weeks to go before the show airs for this year's season, Caroline Flack, presenter of the show has announced on her Instagram stories that filming for this year's show will begin this week and she will potentially have met our 2019 cast by the end of the week. How exciting!
After last years emotional roller coaster, and all the heartbreaks we've endured since, with not one of the couples from 2018 lasting longer than 8 months, we're all very much ready to begin following the love-life of the next roll of contestants.
Last year's winners Jack and Dani ended their relationship last month when Jack revealed on Instagram that the couple have split, breaking hearts all over the country. Jack and Dani had previously ended their relationship for a short time (1 day) after having an argument, but quickly rekindled their romance. Many speculate that they waited to announce their final split until Dani had released her book 'What would Dani do? My guide to living your best life.', but we can't be so sure.
Caroline goes on to explain on her Instagram stories that filming will start this week.
"What's really exciting about this week is - This week we start filming for Love Island 2019"
Advertisement
She then reveals that the contestants have been selected and she will potentially meet them by the end of this week,
"By the end of the week I'm gonna have potentially seen the cast for this year, which is really exciting and mad that it's come around this quick. So I'll let you know what happens. It's going to be a long hot summer and all that!"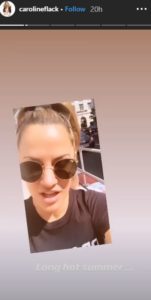 Love Island usually airs early June, which means we have only a month left of waiting. TV bosses are considering lengthening the show another week or two, into early August. Happy days!
I still can't believe it's almost been a year since we met last years contestants. How time flies.
Also Read: