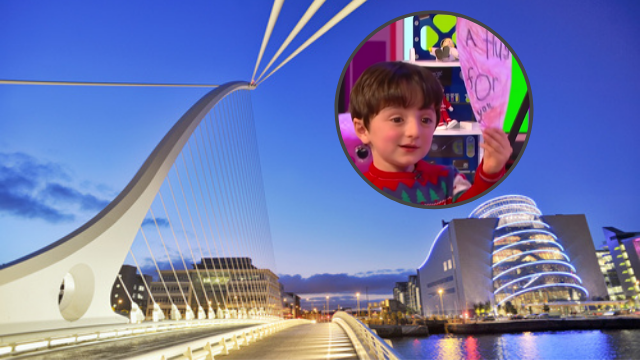 Adam King's appearance on The Late Late Toy Show was one of the true highlights of 2020. The 6-year-old from Cork was met with universal adoration after his appearance, during which he presented host Ryan Tubridy with a "virtual hug", professed his love for all things space, and was reunited with his favourite porter from Temple Street Hospital, John Doyle.
Adam's infectious positivity is set to continue into 2021. Dublin, Cork and Waterford city councils have all announced that landmarks in the cities will be lit up with Adam's "Virtual Hug" sign this evening to mark National Hugging Day.
In a video address on Twitter, Adam said, "Because we can't hug each other this year, I'm sending you all a virtual hug. So keep an eye out, because you might see my 'virtual hug' near you."
Adam King's 'virtual hug' sign is set to light up locations across the country this evening. The six-year-old Toy Show star is encouraging people to send a 'virtual hug' to someone they care about #NationalHuggingDay ❤️🤗 pic.twitter.com/1KBRmpBnuI

— RTÉ News (@rtenews) January 21, 2021
Lord Mayor of Dublin Hazel Chu was among those congratulating the Cork youngster this morning for his positivity. She also announced that, inspired by Adam and his fellow Toy Show stars, there will now be a yearly "Lord Mayor's Children & Youth awards."
Advertisement
Delighted that we at @DubCityCouncil can support on this. Thank you to the lovely Adam King @AdventuresWAD for the virtual hug!

Also Adam & all the children on the #LateLateToyShow is why I'm going to launch a Lord Mayor's Children & Youth awards this year. More to follow on it. https://t.co/8wQR1PXyVA

— Hazel Chu (@hazechu) January 21, 2021
This is just the latest chapter in Adam's incredible story, after he was given the opportunity to hang out with Canadian astronaut Chris Hadfield over Zoom on a later episode of The Late Late Show. He also received messages from British Astronaut Tim Peake and the European Space Agency on Twitter after revealing on the Toy Show that his dream was to become an astronaut.
National Hugging Day was set to fly under the radar this year, given the current public health guidelines encouraging social distancing, but this amazing gesture means that sites such as the Samuel Beckett Bridge and Cork City Hall will mark the day. Adam is encouraging everyone to send a "virtual hug" to someone they care about today to mark the occasion.