As much as Lucie tried to make it work, 'Bev" is not catching on as a popular Love Island slogan. One catchphrase that has caught on, however, is Sherif's nonchalant  "it is what it is". The phrase came about after Sherif was relegated to the subs' bench after Amber stood forward for nice guy Callum. This lead Sherif to shrug it off and say "it is what it is" and the 2019 Love Island slogan was born.
Twitter users joke that Penney's executives would be running out to get T-shirts printed with the first of the series slogans.
primark execs rushing to get 'it is what it is' printed onto t shirts and water bottles #LoveIsland pic.twitter.com/Ha2pjWslvL

— Felix (@felixrackers) June 3, 2019
Primark are printing 'it is what it is' T shirts as we speak #loveisland

— Jennifer Mistry (@Jenny_crayon) June 3, 2019
It hasn't even been 24 hours since the first episode aired and already Love Island fans can get their hands on an "it is what it is" T-shirt. Thanks to the London based company Everpress you can be the proud owner of a slogan T-Shirt for just €17.
Advertisement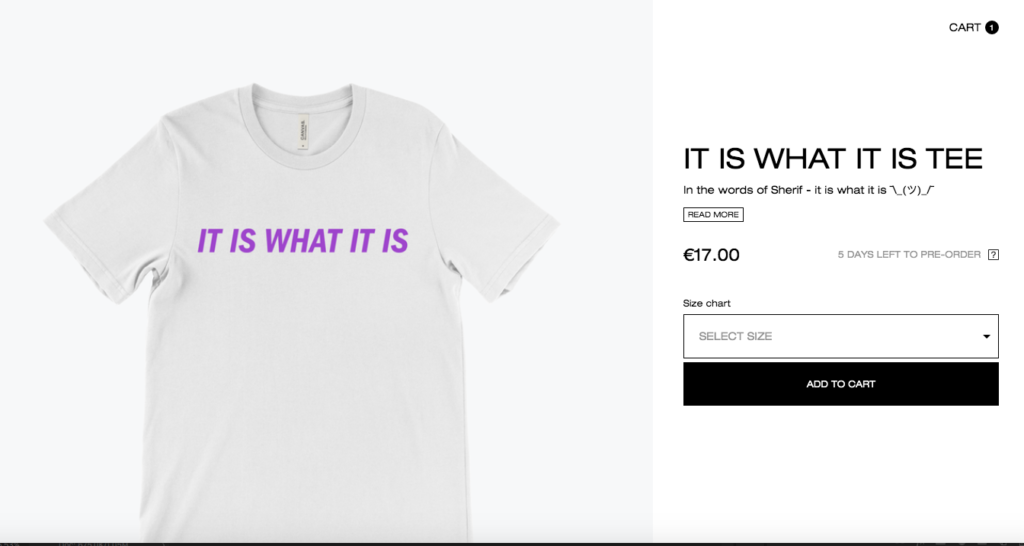 The T-shirt is unisex and is available in sizes Extra Small to 2XL. It comes in white and is 100% combed and ringspun cotton. It's only available for 5 days, you can order yours here.
Every season of Love Island brings a different slogan, last year's slogan, how could we forget, came from Georgia with "I'm loyal babes", 2017 it was "My type on paper" which first originated from Olivia.
It's early in the series for a catchphrase to have already caught on. As Love Island takes over our lives over the next eight weeks, more slogans are sure to develop. Oh please don't let it be Lucie with labelling everything as "Bev".