When I woke up this morning, I can say with complete sincerity and honesty, that the above title is not a sentence I would be writing today. And with good reason, depraved would they be, the man who could with a smile face the day knowing full well that at a certain point he would have to write such a confusing and damnable sentence.
But here we are, and, after this situation came to my attention, my hands were tied, it was simply incumbent on me that I inform you of the fact that once-feted child-star, now self-parodying marketing tool, Macaulay Culkin has decided to change his middle name by means of an online poll.
Mr. Culkin originally created the poll in November, which allowed members of the public to suggest and then vote on what they thought his new middle name should be. He set the deadline for the voting to be Christmas Eve and has since proferred his favourite five. The five that he selected as his favourite are perhaps the most damning indictment of the lengths a human being is willing to go to to sacrifice their own personal dignity and integrity in the interests of publicity. There is a very real possibility that, come the beginning of 2019, the actor we had come to know as Macaulay Carson Culkin will cease to be. In his stead will be a man known as one of the following;
Macaulay 'Macaulay Culkin' Culkin
Macaulay 'Shark Week' Culkin
Macaulay 'Kieran' Culkin
Macaulay 'TheMcRibIsBack' Culkin
Macaulay 'Publicity Stunt' Culkin
While the inclusion of 'Kieran' in the same competitive naming landscape as the phrase 'Shark Week' might initially seem bizarre, it is important to remember that Macaulay is not the only Culkin out there. He has a brother, also involved in acting, who is named 'Kieran', prompting its inclusion here.
Advertisement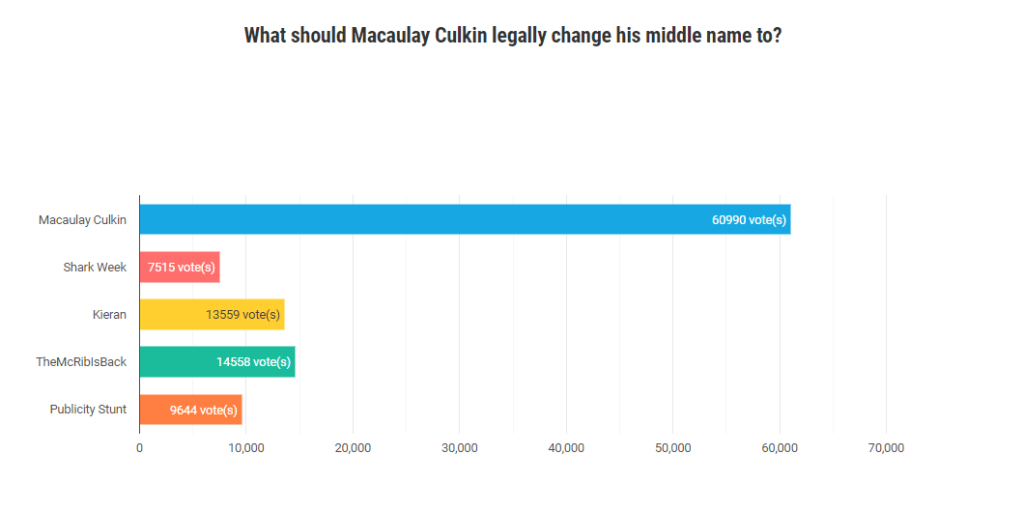 With 'Macaulay Culkin' being the runaway favourite among the voters, it seems that from the extent of the limited amount of investigative journalism I can muster the will to perform while working from home between Christmas and New Year's - a quick glance over his Wikipedia page, it seems that his name has already been changed on that. Truly, we are living in the end times.