I've learned the hard way over the years, often when a guy repeatedly says he's a nice guy, more often than not he's not a nice guy. Or when someone says they're really sound, they're overcompensating for not being that sound. We all would have encountered this instance for group work in college, the person that tells you how intelligent they are, usually lead you down a rabbit hole that ends in a bad grade. When watching Love Island, I'm struck by how many times both Tommy and Michael refer to themselves as "nice guys", and as much as I want to believe it, I'm not convinced.
In last night's episode, Tommy expressed on a few occasions that he was a nice, sensitive guy. One moment that caught people's attention that caught viewers attention was when he declared his love for Hannah Montana, saying:
It's mad because everyone judges me on my last name as being a d***head but I am anything but that, I love Hannah Montana for God's sake! There isn't one bad bone in my body.
Tommy saying he likes Hannah Montana makes me like him even more #loveisland pic.twitter.com/aAtad2uX08

— Bethany[PB] (@CloudHowlter) June 4, 2019
Advertisement
The first episode ended in a twist announcing that the newest additions to the villa Tommy and Curtis will each couple with a girl of their choice, leaving two boys vulnerable. In last night's episode, Curtis chose to couple up with Amy, leaving me shouting at the television that he should have picked Yewande. In a move that is sure to cause some tension in the villa, Tommy chose Lucie, who was already happily coupled up with Joe.
Fans were quick to point out that Lucie does not look unlike Hannah Montana: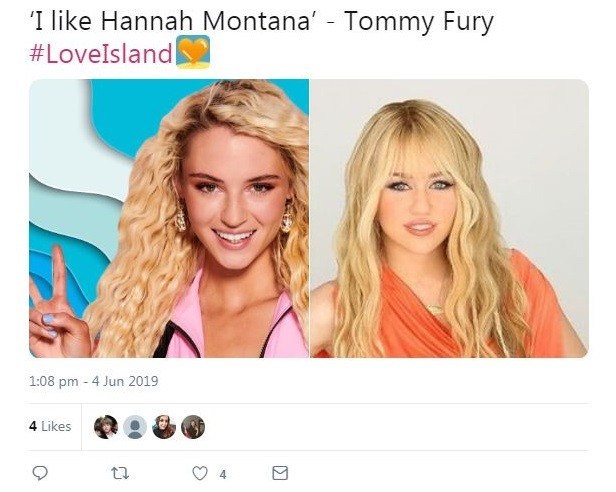 Watch the carnage continue when Love Island returns tonight at 9 pm.