If you're anything like me, you're hard to please and you (mostly) despise vegetables. I mean, who could hate a potato? But seriously, it can actually be really hard to find a meal you like that you don't have to pick suspicious-looking vegetables or ingredients out of. So we've got 5 picky eater dinners for you!
Slow Cooker Bacon And Chicken Pasta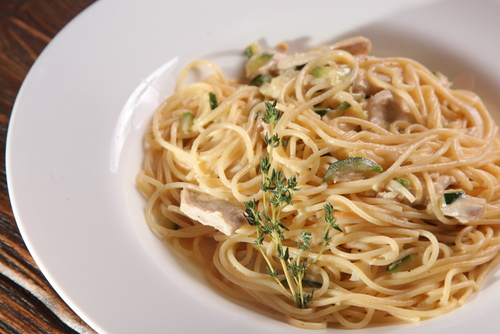 Ingredients
500g chicken breasts
6 slices bacon, cooked and diced
2 to 3 cloves garlic, finely chopped
1 packet ranch dressing and seasoning mix
320ml condensed cream of chicken soup
1 cup sour cream
1/2 teaspoon pepper
1/2 cup water
225g spaghetti, cooked
Method
Spray slow cooker with cooking spray; place chicken breasts in cooker.
In medium bowl, mix remaining ingredients except spaghetti. Pour over  chicken.
Cover; cook on Low heat setting for 6 hours or on High heat setting for 3 to 4 hours.
When about 15 minutes are left, cook and drain spaghetti as directed on package.
Just before serving, shred chicken with 2 forks, and toss creamy chicken mixture with cooked spaghetti.
Advertisement
Spinach And Feta Macaroni And Cheese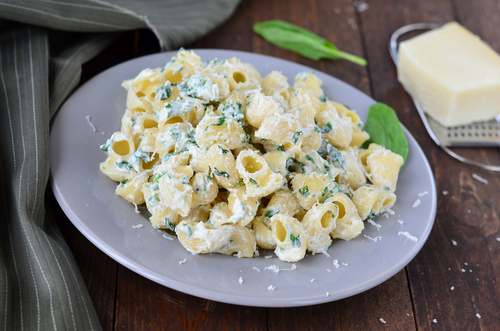 Ingredients
5 cups fresh spinach
1 lemon, juiced
8 tablespoons unsalted butter
1/2 cup flour
3.5 cups milk
salt to taste
1 teaspoon oregano
1 1/2 cups cheddar, shredded
3/4 cup feta cheese crumbles
500g macaroni pasta, cooked to al dente
Method
Toss lemon juice and spinach then heat in microwave or over stove in a small saucepan just until it starts to wilt. Set aside.
Over medium heat, melt butter in a large saucepan. Whisk in flour and continue cooking for 3 minutes until lightly browned.
Slowly whisk in milk and add in salt and oregano.
Add cheddar in small amounts, stirring until melted. When all the cheese is melted, stir in the feta.
Mix in cooked macaroni and spinach.
Serve immediately.
Advertisement
Easy BBQ Chicken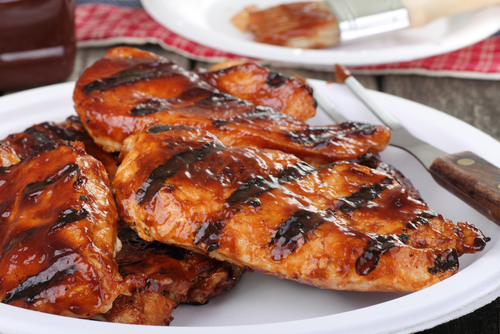 Ingredients
4 chicken breasts
¾ cup ketchup
3 tablespoons dark brown sugar
2 tablespoons cider vinegar
2 tablespoons Worcestershire sauce
1 large pinch salt
2 dashes hot pepper sauce
Method
Stir everything together in a large bowl.
Baste the chicken with the sauce and let it sit in the fridge for at least an hour.
Heat the stove and cook the chicken over medium heat, flipping as needed and basting the chicken more as it cooks.
Advertisement
Quick Fried Rice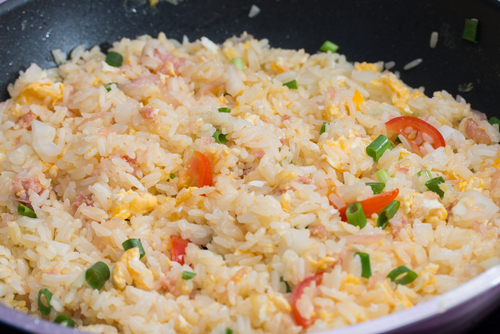 Ingredients
3 cups cold leftover cooked rice
1⁄2-1 cup butter
1 medium onion (chopped)
2 stalks celery (chopped, or just use 3 cloves of garlic)
2 carrots (diced)
1 cup frozen peas (or a bit of ginger)
3 eggs
1⁄4-1⁄2 cup soy sauce
pepper
Method
Melt butter in large non-stick pan.
Add onion, celery, and carrots, or other ingredients you like.
Saute until onions are transparent and carrots are tender.
Add peas and cook one minute until peas are thawed.
Push veggies to one side of pan.
Scramble eggs in empty side of pan after the butter spreads from veggies.
Mix eggs into veggies and season with pepper then put in small amount of rice.
Add soy sauce then slowly mix in rice by the spoonful until all rice is added and all ingredients are well blended.
Fry until done!
Advertisement
The Perfect Burger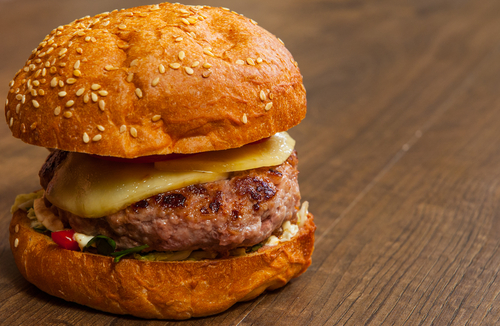 Ingredients
1 egg
1 teaspoon mustard (regular or Dijon)
1 teaspoon Worcestershire sauce
1 small onion, finely grated
1 clove garlic, minced
1⁄2 teaspoon salt
1⁄2 teaspoon pepper
500g minced beef
Other stuff to add in if you want:
1 tablespoon creamy caesar salad dressing or 1 tablespoon Greek salad dressing
1 tablespoon chopped sun-dried tomato
1 tablespoon sour cream or 1 tablespoon yoghurt
1 tablespoon grated fresh lemon rind
1 tablespoon grated gingerroot
1 tablespoon ketchup or 1 tablespoon barbecue sauce
1 teaspoon curry powder
1 teaspoon dried oregano or 1 teaspoon dried thyme or 1 teaspoon dried rosemary
1 tablespoon fresh herb
2 teaspoons cajun seasoning
1 teaspoon sesame oil
Method
Lightly oil pan and heat to medium.
Whisk egg in a bowl and add next 6 ingredients.
Add any of the extras that you like.
Add in the beef and mix it all together.
Gently shape mixture into burgers about 1cm thick.
Using your thumb, make a shallow depression in the centre of each burger to prevent puffing up during cooking.
Place burgers on the pan, turning once, about 6 – 8 minutes per side.
Tuck into a warm bun and add your favourite toppings.
Note: Don't abuse your burgers by pressing with a spatula, pricking with a fork or turning frequently!
Also read: