Met Éireann have this morning issued weather warnings for the approaching Hurricane Lorenzo. Lorenzo, currently categorised as a hurricane, is situated over the Azores and moving north. There was some uncertainty over the previous few days as to the exact trajectory the storm would end up following. However, it has been confirmed that the storm itself is expected to track over the west coast of Ireland through Thursday, before moving right across the country over Thursday night.
Over the next 24 hours, as it approaches Ireland, it is expected to weaken as it encounters polar air. It will undergo a period of transition as it is downgraded from 'hurricane' to an 'extra-tropical storm'. This means that it will still possess the capability to produce wind speeds of up to 130 km/hr.
As the storm nears Ireland, and moves across the country it will begin to significantly weaken, as such the worst weather is expected in western counties. Met Éireann have therefore issued a status orange wind warning for Galway, Mayo, Cork, Limerick, Kerry, and Clare. A status yellow wind warning will be in effect for the rest of the country.
Status Orange - Wind warning for Galway, Mayo, Clare, Cork, Kerry and Limerick

Valid: Thursday 6 p.m. to Friday 3 a.m.https://t.co/ozrQHtoOkt pic.twitter.com/j2jnYIz085

— Met Éireann (@MetEireann) October 2, 2019
The yellow wind warning for the country will be in place from Thursday morning at 9am until Friday at 9am.
Status Yellow - Wind warning for Ireland

Southeasterly winds later veering southwesterly will reach mean speeds 50 to 65km/h with gusts to 100km/h resulting in some disruptive impacts.

Valid: Thursday 9 a.m. to Friday 6 a.m. pic.twitter.com/J8sAiOtXsZ

— Met Éireann (@MetEireann) October 2, 2019
Advertisement
Here is a map of Ireland and the relevant weather warning for each county.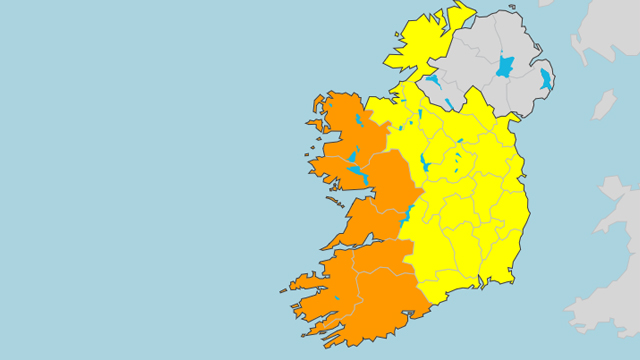 Met Éireann are warning that, given the fact it is early October and most trees have still not fully shed their leaves, there is a significantly increased risk of tree-damage. They are warning people to be aware of the possibility of falling branches and of trees being felled by the winds.
The storm will also cause significant rainfall throughout the country with the possibility of flash flooding.
You can follow this weather tracker to follow the course of Storm Lorenzo over the next couple of days.
The government have called a meeting for the National Emergency Coordination group to at 10:30am this morning to further look at what action might need to be taken to help ensure public safety.