If you're prone to losing all your possessions on a night out and your phone's dead then you need this app.
Richie Commins (23) was studying in NUIG when he developed the idea for Flag, the taxi app. The app allows those who are stranded without cash or a phone to get a taxi home - a situation many of us can recall being in.
How does it work? During registration on the app, users will be prompted to add an ID photo and create a four-digit pin to secure their account.
If your phone battery is dead all you have to do is flag a taxi off the street or find a taxi rank and tell the driver your name and your four-digit PIN which they can verify on the driver's version of the app. The driver will then have access to your profile photo to prove your identity.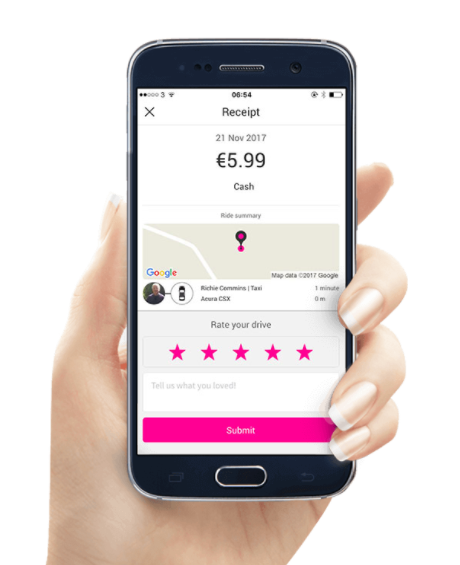 The payment will be processed by the user's pre-registered card. The app has been endorsed by the Irish Taxi Drivers Federation alongside Enterprise Ireland, Nissan, AIB and An Garda Síochána approved of the app through the Campus Watch initiative.
Commins worked on the project during his final year at NUIG and worked with a team to develop the apps safety features, pinpoint accuracy and time of arrival. According to SiliconRepublic, James Maguire of the Irish Taxi Drivers Federation has been praising the apps much-needed place in the market:
Advertisement
We were incredibly impressed with the app. Not only does it work well, it will allow drivers pick up passengers that may have found themselves in an unfortunate situation. It's fantastic to be able to give that kind of support to both drivers and passengers, and we are proud to support the app.
Commins hopes that by working will a large pool fo drivers the Flag app will make the passengers experience even better. A pink 'Flag' sticker will be placed on taxis to let passengers know the driver provides the service.
To download and find out more about the Flag taxi app click here.