Kylie Jenner announced the arrival of her baby girl and as expected, everyone has gone into meltdown. There was that lengthy Instagram post, an 11-minute Kylie Jenner pregnancy video and millions of tweets as the world reacted to the news that the youngest Kardashian sibling has had a baby.
First came the announcement. Although there's been months of speculation, no one has officially confirmed the pregnancy until now. Kylie explained her decision to keep things private, writing "I knew for myself i needed to prepare for this role of a lifetime in the most positive, stress free, and healthy way I knew how."
Kylie went on to describe pregnancy an "empowering and life changing experience" and that she had given birth to a healthy baby girl on February 1.
Then came the reaction:
Congratulations, @KylieJenner ❤️

— Brooke Houts (@brookehouts) February 5, 2018
kylie jenner was a CHILD when i was a teenager and no she's a mom and i'm still a glorified teenager.

— Harnidh Kaur (@PedestrianPoet) February 5, 2018
Advertisement
Me: *knows that Kylie Jenner is pregnant*
Kylie: *releases that she had a baby*
Me: pic.twitter.com/PcAqH1aP8y

— Jenna Denney (@JennaDenney) February 5, 2018
me: kylie jenner is pregnant WE BEEN KNEW
*kylie jenner actually gives birth*
me: pic.twitter.com/dGDAMt0DWV

— rachael (@sarabeIlum) February 5, 2018
A lot of people admired her for managing to keep it secret for so long.
Advertisement
Congratulations Kylie Jenner on her recent child birth. I'm so glad she could keep things in private, have her own time, and experience the wonderful concept of pregnancy.

— naro (@larryareathome) February 5, 2018
This made my whole 2018@KylieJenner @khloekardashian ??? pic.twitter.com/0vyqPu66pF

— bhabie blasian ? (@flowerbhabie) February 5, 2018
Kylie Jenner's friends are gooooooooood! Not one friend, not one sibling, NO ONE close to her said one thing about what she wanted to protect. Those are some good friends.

— Kandee Johnson (@kandeejohnson) February 5, 2018
Advertisement
How did Kylie Jenner go ghost for 9 months then release a video that made me feel like she just gave birth to me

— allie (@alliemorriss) February 5, 2018
The fact that Kylie Jenner hid her pregnancy & delivery from the world proves that if a celebrity really wants to stay hidden they'll make it happen

— Annette ? (@AnnetteReid24) February 5, 2018
Kylie Jenner proved that you can still have a happy pregnancy/life without having to post pictures every 5mins.

— Mbaliyezwe Ndlela (@mbali_ndlela) February 5, 2018
Advertisement
Kylie Jenner hid her entire pregnancy from the world for 9 months.

I literally can't hide my emotions if I've not eaten for 3 hours ???

— DYLAN EVANS (@MrDylanEvans) February 5, 2018
How can Kylie Jenner hide a baby from basically the whole world for 9 months and I can't even hide my drink from the taxi driver going to a club on a night out???

— b.b (@Benoo_Brown) February 5, 2018
I love @KylieJenner even more after her big reveal and the reason behind it ??

— Denise Anne ✨ (@grgslydenisee) February 5, 2018
Advertisement
One person summed up how the world is responding to the news.
I can't believe Kylie Jenner invented pregnancy

— Kendra (@kendrakaywilson) February 5, 2018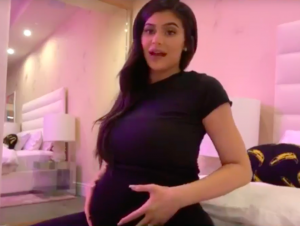 And there's the very cute video which documents Kylie's pregnancy journey.
Advertisement
It's already gotten over 22 million views. How mad is that?!
A big congratulations is in order all the same. No doubt, people were lose their sh** when the name announcement comes.