Batman star, Christian Bale, is known as a Hollywood heartthrob but his recent transformation has left fans' jaws on the floor.
Bale was recently spotted in public as buzz begins to grow around his new movie Backseat were he plays former American Vice President Dick Cheney alongside Hollywood funnyman Steve Carrell. The usually polished star stepped out with a shaved head, creased shirt and baggy trousers:
Christian Bale is that bloke in the pub that clears the empty glasses even tho he doesn't work there. pic.twitter.com/JzQf7hhgMV

— Paddy (@padleyr80) November 15, 2017
The image below is Dick Cheney, the man Bale is playing in Backseat. Is the resemblance uncanny?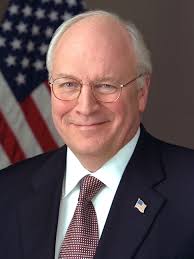 Twitter users couldn't help but comment on how average Bale looks after undergoing his physical transformation but we can't help think that he's enjoying being incognito:
Advertisement
Christian Bale looks like the kind of guy who will give you unwanted advice when you're playing a fruit machine pic.twitter.com/yE5LNj3wZq

— Mnrrnt & 576 other people (@Mnrrnt) November 15, 2017
Christian Bale is really going all out for his next movie role as a racist podcaster pic.twitter.com/lfZOTNUFK8

— Doggo | #LostBoys | AskJeeves "Damn Daniel" (@WTBgirlfriend) November 14, 2017
first look at Christian Bale as "Teddy" in the upcoming live-action Bobs Burgers movie pic.twitter.com/oWQAheAdoE

— kendrick lobstar (@KLobstar) November 14, 2017
Advertisement
Also, fans seem to think he's a lot happier in himself...
Fat Christian Bale looks so happy. Way happier than ripped Christian Bale. Live your best life Christian. Eat them cupcakes. pic.twitter.com/GbiDfjowFj

— Clayton Cubitt (@claytoncubitt) November 15, 2017
But there's speculation over what his next role will be:
Christian Bale's next part is playing 'man who stands next to bus driver and talks to him while he works' pic.twitter.com/1MTInS1NBc

— Glenn Kitson (@Glenn_Kitson) November 14, 2017
Advertisement
We have to give it Christian, his ability to transform his body shape is incredible. He's basically the chameleon of actors and is more than likely going to receive an Oscar nod:
Christian Bale is a goddamn shape shifter pic.twitter.com/qYuS6FB13m

— Hank (@lockdog5000) November 15, 2017
Would you walk past him on the street? Backseat is expected to be released in 2018.