Love Island contestant Chris Hughes has just released a fragrance in association with Topman that is infused with his own tears.
Now, I was as ready as any man to launch a verbal smackdown on the TV show star but it seems the product is for a very good cause. The fragrance is called L'Eau de Chris and the idea of the tear is apparently to encourage men to not bottle up their emotions
L'Eau de Chris? No, ludicrous. However you open up, just #DontBottleItUp.

RT my campaign w/ @thecalmzone & @topman https://t.co/4tCEx76vY0 pic.twitter.com/8Vg4VXwNKo

— Chris Hughes (@chrishughes_22) October 10, 2017
"L'eau de Chris? No, ludicrous that men bottle up their feelings every single day And ludicrous that suicide is the biggest killer in men under 45. This World Mental Health day, don't bottle it up"
So it would seem the reality TV star is using his notoriety to do some good in conjunction with World Mental Health day. Although the idea sound like something that would have appeared on Brass Eye.
Advertisement
The product is advertised on Topman's website and is described as mineral water infused with a Chris Hughes tear. It retails at £2. A veritable steal.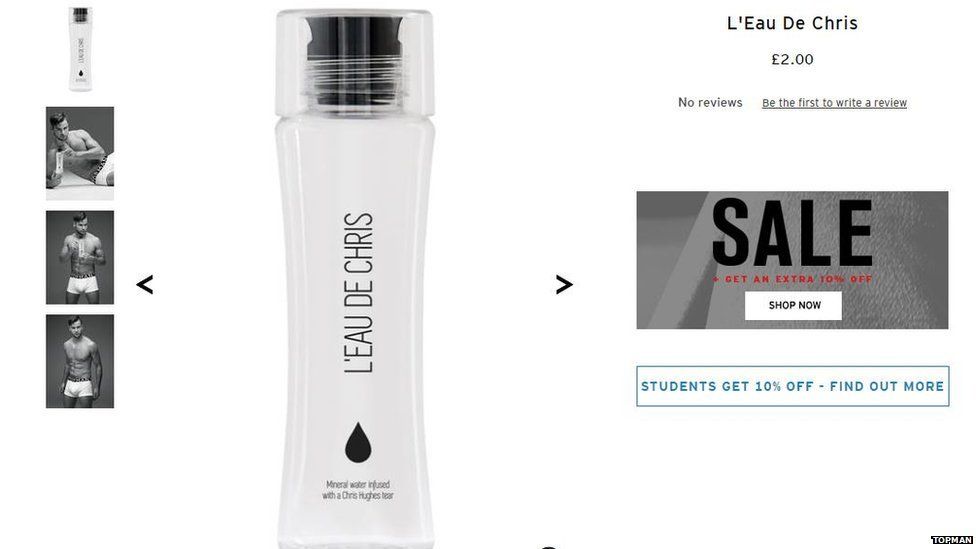 To be fair, it's an ingenious way of getting people's attention on the subject. I am also still reeling from the L'eau de Chris/Ludicrous pun. That really knocked me for six.
Read more on World Mental Health Day