Our daily dose of Netflix is just about to get a whole lot better. At the end of this month and June, Netflix is bringing a whole lot of new shows and movies to our Netflix accounts. From documentaries to comedies, Netflix is covering all genres to glue us to our TV.
Unsolved: Tupac and Biggie Smalls - 18th of June
This ten part series that hones in on the unsolved mystery of the murders of rappers Biggie Smalls and Tupac. It draws from the experiences of two Los Angeles detectives who were both involved in trying to solve the murders, and also explains the similarities between both deaths, and conspiracies surrounding them.

2. Trump: An American Dream -  30th of May
This 4 part series recaps on the rise and falls of Donald Trump from the 60's to the present. It starts from when his father invested "a small loan of 1 million dollars" in him, to his casino years in the 80's, all the way to his turn to politics in recent years.

3. Queer Eye - June 15th
The Fab Five are back for a second season to revamp the lives of others Johnathan, Bobby, Antoni, Tan and Karamo are there to make over your life from food and wine to interior design.
Advertisement
4. Sense8: Season Finale - 8th of June
After it was announced that the show would be cancelled, fans of Sense8 refused to accept it and wrote up petitions and letters to Netflix looking for them to keep it going. In the end Netflix agreed to do a two hour long season finale, which is going to be released this month. "Personal lives are pushed aside as the cluster, their sidekicks, and some unexpected allies band together for a rescue mission and BPO take-down in order to protect the future of all Sensates," according to Netflix's description.

5. Derren Brown: Miracle - 22nd of June
Illusionist Derren Brown is back to mind boggle us and leave us in awe. In this show he "reinvents the concept of 'faith healing' through a series of stunts that debunk the confines of fear, pain and disbelief" according to Netflix's description.
Advertisement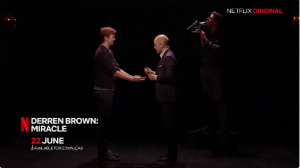 6. RuPaul's Drag Race: Season 10 Finale - 29TH of June
It will down to the last few contestants and we'll be hearing Sashay Away for the last time this season. RuPaul, who will probably be looking as fabulous as ever, will choose the next top Drag Superstar and will be giving us life for the next few weeks until we part again until the next season once more.
7. Planet Earth II - 11th of June
Advertisement
Sir David Attenborough is back for the second part of Planet Earth, showing us some up close and personal scenes of our world and the animal kingdom in top quality HD.

8. The Story of God with Morgan Freeman: Season 2 - 1st June
With episodes like "Proof of God" and "Heaven and Hell", Morgan Freeman travels around searching for different meanings of life, discovering different religions, and asking the big questions about life.

9. Disenchantment – August
This is Matt Groening's brand new 20 episode series that he's created for Netflix. It follows the life and adventures of a hard-drinking princess, Bean, and her two side-kicks Elfo and Luci. The strange trio fight against ogres, trolls, imps and walruses in this adult sci-fi tv-series and we have to say, it looks class.
Also Read: