If you haven't been watching Drag Race where have you been? RuPaul's Drag Race should be the main show in any person's life. The show is basically a mashup between Project Runway and America's Next Top Model. 14 drag entertainers battle it out each week to win the coveted title of America's Next Drag Race Superstar and a cash prize of 100,000 dollars. The show is hosted by legendary drag star and original supermodel of the world RuPaul and gives your more shade than an elephant standing beside a sun lounger. Season 9 is already underway but here are some of the most sickening queens from the past 8 seasons in no particular order:
                                                                     SPOILER ALERT
1. Alaska 5000 - Season 5 and All Stars 2
Alaska has become one of the most recognised queens from Ru Paul's Drag Race. Struggling with personal demons during Season 5 meant she lost the crown but she eventually stole the show in All Stars 2 practically winning each challenge. Alaska's quirky personality, out of this world looks and killer sense of humour left all the other queens in her dust.
Advertisement
2. Detox - Season 5 and All Stars 2
Detox stole the show when she walked into the work room in Season 5. Her looks are mainly high fashion and left us all gagging for more. During All Stars Season 2 she was considered one of the queens for the crown but finished in the top 3.  Detox is now a mainstay in drag culture with fans from around the world going to see her shows.
3. Latrice Royale - Season 4 and All Stars 1
Advertisement
"Get those nuts out of my face!" is one of the most memorable lines from the show that only Latrice could deliver. Latrice's favourite sayings include "chunky yet funky" - in reference to her curvy body and stunning personality - which has become my own personal mantra. Latrice lost out to Chad Michaels to be crowned the All Stars champion but remains forever sickening.
4. Chad Michaels - Season 4 and All Stars 1
The winner of the first season of All Stars Chad Michael and her sickening giraffe outfit was one of our favourites. Her impersonation of Cher is one of the best impressions ever on the Snatch game. Chad continues to school every other queen in existence with her flawless aesthetic and sickening looks.
Advertisement
5. Adore Delano - Season 6 and All Stars 2
Our drag mermaid Adore was a frontrunner in her season for charisma, uniqueness and talent. She left All Stars 2 in the early stages leaving fans devastated. Fans loved Adores unpolished aesthetic, well, everyone except for Michelle Visage, with pizza, "party" and Budweiser becoming three staples to her personality. Adore is now an accomplished singer and performer whose albums have stormed the charts and followed with a world tour. We're still hoping she'll give All Stars 3 a chance.
Advertisement
6. Alyssa Edwards - Season 5 and All Stars 2
The madame of Season 5 became a fan favourite with her tongue popping personality and outlandish looks. All Stars 2 saw her unfairly eliminated and then brought back to the main stage only to be eliminated again. Alyssa is part of the Haus of Edwards which is a collective of other female drag queens from the show such as Laganja Estranja, Shangela and Gia Gunn. Alyssa has a weekly web series called 'Alyssa's Secret' on Youtube. FYI, Alyssa we loved the camera dress.
7. Sharon Needles - Season 4
Advertisement
The baddest bitch that has ever existed. The queen of the dark stole all our hearts in Season 4 with her twisted drag and inimitable humour. She has become a force to be reckoned with in the drag world and her drag continues to slay us all. Needles never shies away from controversy choosing to play Ru Paul's Drag Race judge Michelle Visage in season 4's Snatch Game.
8. Raja - Season 3
Raja is considered one of the best runway walkers and makeup artists the show has ever seen. Her killer high fashion outfits, cool edge and honest persona won her the crown back in Season 3. You can find her and Raven on the Fashion Photo Ruview on Youtube.
Advertisement
9. Raven - Season 2 and All Stars 1
Known for coming second place on both Season 2 and 1 Raven was a force to be reckoned with. Her acting abilities, makeup and runway looks continually slayed the competition. She remains a fierce queen.
10. Tatianna - Season 2 and All Stars 2
Tatianna was mostly remembered for her Britney Spears impression in Season 2 of Drag Race. Her appearance on All Stars changed everything. Fans loved her hilariously voice and her spoken word piece 'Choices'. After her shock elimination the shows producers brought Tatianna back much to the delight of fans of the show who had fallen in love with her. We love you Tati x #thankyou
Advertisement
11. Katya - Season 7 and All Stars 2
The Russian 'Olympian' stole all our hearts in her season but her self-doubt resulted in her elimination. Katya's return to All Stars left us gagging and she was a real threat to Alaska's crown. Her Russian rap performance in All Stars 2 was everything.
Advertisement
12. Bianca Del Rio - Season 6
Perhaps the funniest drag queen alive the winner of season 6 Bianca Del Rio would read the dictionary to death. Although Bianca's a tough cookie she has a big heart - but don't tell anyone that! Del Rio's Not Today Satan comedy world tour was a sellout and she performed to thousands around the globe.
Advertisement
13. Kim Chi - Season 8
Kim Chi's impressive and skilled aesthetic and lovable personality made her favourite to win Season 8.  She is fondly remembered for her walk, makeup and her famous words "Donut come for me!".
Advertisement
14. Violet Chachki - Season 7
Violet got off to a rocky start at the beginning of her season with several queens taking umbrage with her cold personality. Violet eventually snatched the crown by bringing her unique high fashion onto the runway. Violet will be remembered for her tight corset/ oxygen tank look which was both revered and criticised by the show's fans.
15. Willam - Season 4
For many Drag Race fans Willam is the Drag Race winner that never got her crown. This queen got eliminated back in Season 4 for breaking the rules.  Unlike many TV personalities who boast they have it all, Kimora Black I'm looking at you gurl, Willam had the credentials to walk the talk. Not only could she dance, act and be a comedy queen she had a personality that we'd never seen before. Here's hoping Ru brings her back for a future All Stars!
Advertisement
16. Jinkx Monsoon - Season 5
Jinkx was an underdog from the beginning of season 5. Jinkx's narcolepsy, ability to overcome the bullying and loveable drag made her a firm favourite with fans and she was only in the bottom two once before taking the crown. Fans rejoiced in her rendition of Edie from Grey Gardens and still fondly recite her famous saying "Water off a duck's back!". #monsoonseason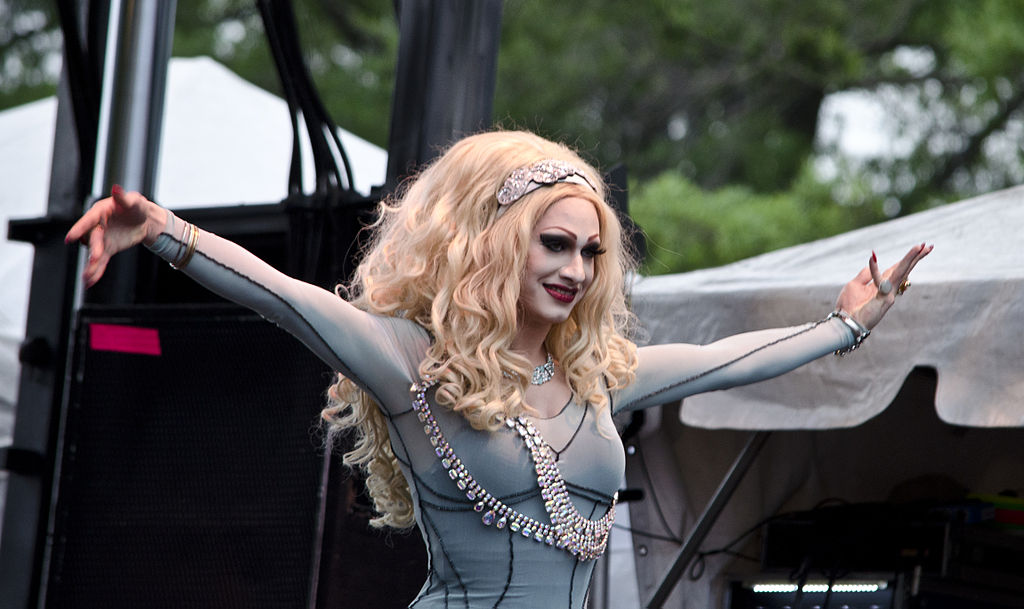 17. Bob The Drag Queen - Season 8
Advertisement
The comedy queen that is Bob the Drag Queen made God herself laugh. Her endearing personality and camaraderie with her fellow contestants made her a favourite with the audience. #pursefirst
Now, sashay away...
Watch RuPaul's Drag Race Season 9 and all other seasons on Netflix.