Jordyn Woods' very first time speaking out, nevermind a fully blown interview will be out this Friday on Jada Pinkett Smiths' Red Table Talks, with Willow Smith and Jada's mother, Adrienne Banfield-Norris.
Now, if you haven't heard of Jada Smiths' Red Table Talks then you are missing out. Herself, her daughter Willow and her Mother Adrienne, post regular Facebook videos shot inside their home, and discuss a range of different topics, from sexual activity, mental health, domestic abuse, and next on the list of interviewees is Jordyn Woods.
Jordyn has always been very close with the Smith family - it's actually how she met Kylie Jenner in the first place, through Jaden Smith when they were just 13.
 

View this post on Instagram

 
Now years later, that friendship has completely broken down after Jordyn hooked up with Kylie's older sister's Boyfriend/Baby Daddy, Tristan Thompson. This has been the epicenter of drama over the last week, since the drama unfolded after Valentine's day.
There has been all kind of rumours from 'sources' flying about, but I will refuse to listen unless it comes from the horse's mouth, a.k.a Khloe and Jordyn. A few of these rumours have been that Jordyn and Tristan had an agreement to deny all accusations if it ever came out that they were seeing each other, and that Jordyn has been offered her own reality show since the scandal surfaced.
Advertisement
 

View this post on Instagram

 
Jordyn has been dropped from all business related to the Kardashian/Jenner, with Kylie dropping the prices of her lip-kits within a day of the cheating scandal, and Khloe removing Jordyn's Good American page from the website.
Now that you're all caught up, Jordyn will be making her first appearance since the story dropped this Friday on Jada's Red Table Talks, which I think, is the best idea ever.
Jada and her family tend to get very real when it comes to their Facebook talk show, and get down to the nitty gritty of anything that's discussed on the show.
Khloe is yet to make a comment on the heart-breaking situation, but has been posting inspirational quotes and tweets ever since the shocking discovery. She tweeted just yesterday thanking her fans for the love and support they have been giving her, and that she will talk when she feels ready to.
Advertisement
Hi loves, wanted you to know that I appreciate you! ?? I've been reading your kind words and they really are a blessing to me. I love you! Thank you Thank you! I'll be back when I'm in the mood to chat with you all. Until then remember to be kind to one another ?

— Khloé (@khloekardashian) 26 Feabhra 2019
Jordyn posted an Instagram Live video to announce that she will be on the talk show. In the video she is videoed walking out towards the Red Table and sitting down, she doesn't say anything but the shock factor is deafening.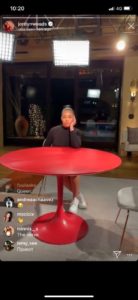 The interview will be live from 5pm on Friday on Red Table Talks Facebook page.
Also Read: Kerry Gin Named The Best In World At The World Gin Awards