Another day, another Kardashian scandal. Even if there's a week with low media coverage, they just pop on a revealing outfit and they're back on the pages of DailyMail as click bate. Yes, that is directed at Kim. This latest scandal behind the Khloe Kardashian and Tristan Thompson Spilt, on the shocking scale of one to Abducted in Plain Sight is about a 6.
So unlucky in love Khloe Kardashian has hit another bump in the road. A quick recap on her love life that is more tragic than any single cat lady out there. First, she married Lemar Odam after only a few weeks of dating. This marriage ended after it emerged he had a fondness for cocaine and hookers. Then when she and viewers of "Keeping up with the Kardashians" thought she had found her happy ever after in Tristan Thompson, it emerged that he was a serial cheater.
In spite of him been photographed with other women while she was pregnant, she took him back. Therefore, this latest revelation that Tristan has cheated again on Khloe with sister Jenner's BFF, Jordyn Woods isn't total jaw-dropping news. Once a cheater always a cheater so your Granny would tell you.
According to TMZ, Tristan and Jordyn were at a house party on Sunday, where multiple sources saw the pair 'making out', or "shifting" as we would say in this part of the world. Witnesses told TMZ that Khloe found out and immediately broke thing off the basketball player.
Screenshots have surfaced online confirming this new cheating allegation. The screenshot shows the comments from a news story published by Hollywood Unlocked, with Khloe's BFF Malika Haqq commenting 'STRONG FACTS" and Khloe herself posting a shouting emoji.
Advertisement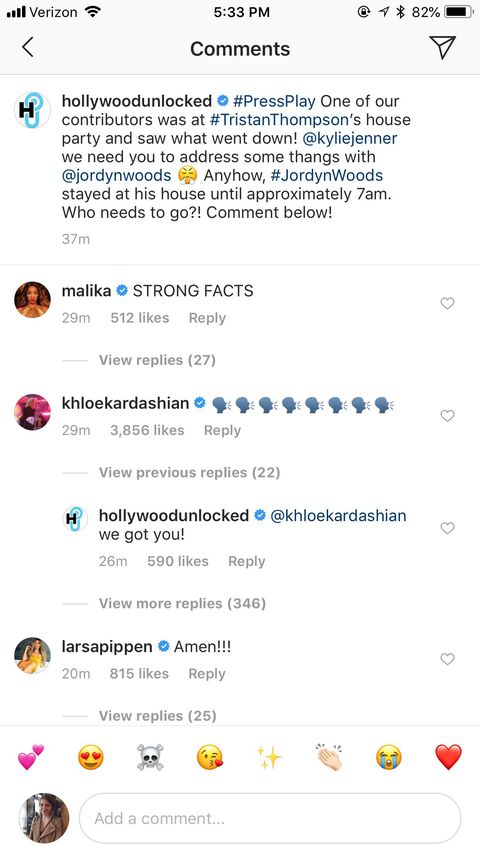 So what are the next steps for Khloe Kardashian? Well, Khloe, if you're reading this, the Lisdoonvarna Match Making Festival, Europe's biggest singles festival, is on from the 30th August to 29th September this year. You could find yourself a nice reliable Irish fella with road frontage. For anyone unfamiliar with my culchie slag, road frontage is the measure of ones eligibility for marriage or more specifically how much of your land is bound by road and therefore ready for sale as sites for houses. The priorities!
Read More: Irish EuroMillions Winner Advised To "Take Their Time and Stay Calm"