The Late Late show's Valentine's special is just around the corner, and if it's anything like last year we're in for an amazingly cringe-worthy treat. As well as that, you've got a chance to get yourself involved and find the love of your life/night on live television!
Ryan Tubridy is looking for some of the best love stories from across the country to feature on the most romantic valentine's special yet. Ryan would like to hear from the public about how they found the love of their life, with the best stories getting a spot on the show.
Here's what Ryan is looking for:
"Maybe you've travelled the world but ended up falling head over heels with your next door neighbour, or maybe you're celebrating a special wedding anniversary and would like to tell us where it all began",
The Late Late show has always been the best way to spend your Valentine's day, all cuddled up on the couch, cringing at the horrible things Ryan gets those pitiful singletons to do.
 If you remember last years one, you'll remember the blind dates, surprise mother visits, and of course the viral proposal between two of the audience members, James Hennessy and Siobhán Hiney from Mullingar.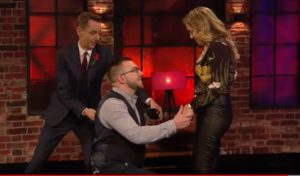 Advertisement
This year I expect it to be no different. The show will air on the 8th of February, which gives you only a few days to enter your love stories!
Ryan's also still looking for singletons to join the audience, to be picked out to join in on random games that will have most of us roflling (rolling on the floor laughing) in the comfort of our sitting rooms with no threat of involvement.
If you are interested in entering your love story to the show email them at [email protected].
You can also still apply for tickets to be in the audience on their website.
Who knows, maybe you could finally find the one!
Also Read: