It's the news we were hoping we wouldn't hear, last season Love Island winners Jack Fincham and Dani Dyer have announced they are "no longer in a relationship", much to the devastation of fans everywhere. They were the last couple standing from the last season after a surge of break-ups around the 6-month mark, also known as the end of the honeymoon phase.
Last summer, as we watched their romance play out on our TV screens, it was unanimous that Jack and Dani were everyone's favourite couple. Jack, a lovable stationary salesman from London and Dani, the daughter of actor Danny Dyer, seemed like the perfect match. They captured the hearts of a nation through their laughter.
On leaving the bubble that is the Love Island house, the couple were quick to move in together. However, busy schedules and Jack's party lifestyle began to cause a strain on the relationship. Last December, Dani took to her Instagram account to announce the couple had split. They quickly rekindled their romance. Dani released a statement explaining she had overreacted to an argument and saying she is  "still 22 trying to get my sh*t together and grow into a woman but doing it in the public eye is sometimes hard and scary, but arguments are arguments and I love him."
This time around, however, it looks like it is really the end for everyone's favourite Love Island pairing. Jack took to his Instagram account to announce the split. In an Instagram story, Jack begins with "there is no easy way to say this  and it isn't going to be an easy time but me and Dani are not in a relationship anymore"
Advertisement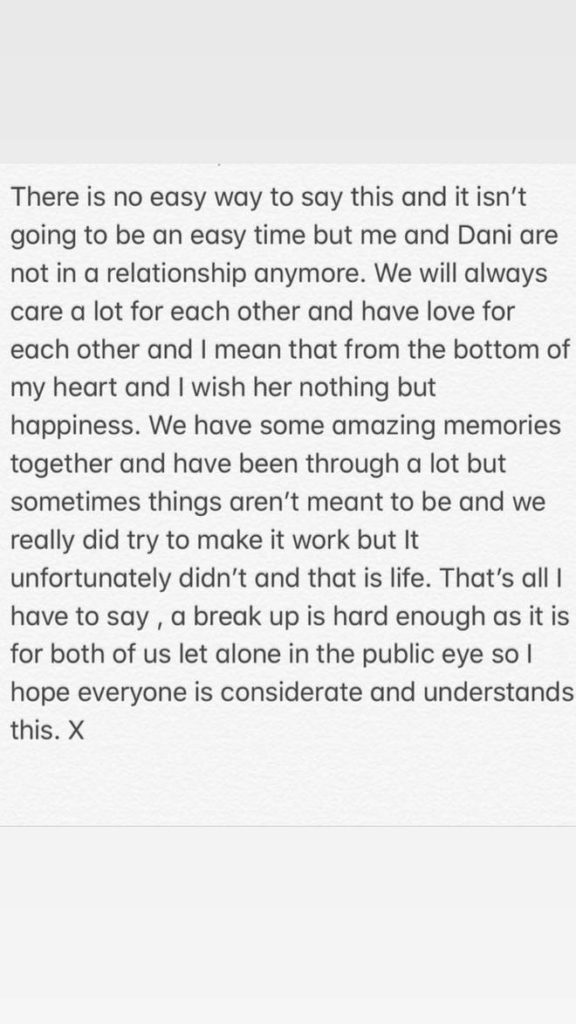 Sad news, but we wish this pair the very best. That's every couple from last Summer's Love Island ending in Splitsville. We only hope that there are more positive outcomes for this Summers contestants. They are still accepting applicants for next season's Love Island. If you feel the show need some Irish representation, you find out how to apply here