With Easter only 10 days away, creme eggs are everywhere. Heinz partnered with Cadbury's for the unlikely combination of creme egg mayonnaise, a chipper in Ballyfermot introduced deep fried creme eggs, cream egg McFlurrys made their much-anticipated comeback and there is even a cream egg frappuccino. On Monday I questioned if creme egg mayonnaise was a step too far, however, this week I can confirm with confidence that this latest creme egg product is taking the creme egg obsession too far.
Meet 'Fudgeina', pronounced: Fud- Ji-Nah, a vagina (or vulva to be anatomically correct) filled with a creme egg filling. Fudgeina is made in the UK from the highest quality fudge. It comes in a range of different flavours including chocolate, vanilla, strawberry and the new Easter edition creme egg. It is worth noting the Fudgeina is also suitable for vegans.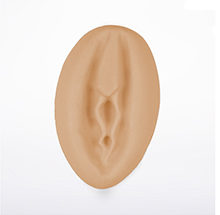 On the chocolatiers website, they list some of the reasons you might want to send a Fudgeina. One reason is to send one anonymously to a friend because there really isn't a more random gift you could get for Easter. A second reason is for yourself, they assure they won't judge what you do with it. They also state on their website that they have no affiliation with Cadburys.
Advertisement
If you want to purchase a Fudgeina with a creme egg filling, again your motives won't be judged, you can purchase one here. It can take up to 14 days working days for international deliveries, so if you were hoping to have your very on Fudgeina in time for Easter, you might be out of luck.
If you are the recipient of an anonymous Fudgeina, I would reevaluate your friend group, every last one of them.
Also Read: