The trailer for new Netflix miniseries, Alias Grace, has gotten Margaret Atwood fans excited for the next adaptation. Based on Atwood's award-winning novel, Alias Grace tells the true story of Grace Marks, an Irish immigrant working as a maid to the Kinnear family in Canada. Marks was controversially convicted of murdering her employer, Thomas Kinnear, with the help of James McDermott, the family's stablehand. The case sparked debate as to whether Grace committed the murder or whether she was just an accessory to McDermott's crime.
If The Handmaid's Tale is anything to go by, Alias Grace is set to be a huge commercial success. The series is being written by Sarah Polley, a Canadian writer and actress infamous for her political activism, and directed by Mary Harron, who directed cult classic American Psycho. The titular role of Grace is played by Sarah Hadon, who you may have seen before in A Dangerous Method or The Amazing Spiderman 2, dependent on your personal preferences. The cast also boasts Anna Paquin (True Blood), Zachary Levi (Chuck) and Edward Holcroft (the Kingsman series).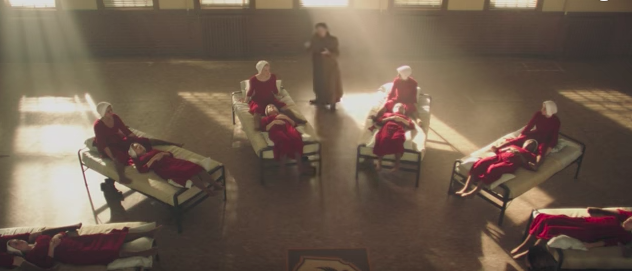 Advertisement
The plot of Alias Grace is strikingly similar to the case of Karla Homolka, a Canadian serial killer who, with the help of her husband, raped and murdered at least three children. Homolka told investigators that her husband was abusive and that she was an unwilling accomplice to the crimes they had committed together. As a result, Homolka received a shortened sentence of twelve years in prison for manslaughter. However, after the trial, video evidence of Homolka willingly participating in the crime emerged and her twelve-year deal was referred to as the "Deal with the Devil" in the Canadian Press.
Is Grace Marks a murderess, as she poses in the trailer, or is she a naïve, young woman manipulated by James McDermott? Find out when it premieres on Netflix on the 3rd of November.
Via: Joe.ie