"Destination: Bré". Panic sets in at the sound of the cool automated voice floating through the speakers. It's at times like this that you really wish you'd paid more attention during Leaving Cert Irish. What on earth - where on earth is "Bré"? Where is this mystery location that this DART is ferrying you to? What could it all mean!? The fear bubbling up from the pit of your stomach threatens to overwhelm you. This is not what you'd signed up for. The voice returns. "Desination: Bray". Just as quickly as the sense of dread came on, it disappears. Oh sweet merciful lord.
Anyone who's had a dalliance with Iarnród Éireann Irish Rail will be all too familiar with this uniquely joyous quirk of Irish public transport, the ol' joint-billing of the Irish and English place-names of each destination. Most of the time the English is a sort of direct bastardisation of the Irish. Other times it's the reverse. And others, the two bear absolutely no seeming similarities beyond the fact that they will both appear on the same sign at the train station.
Even if your knowledge of Irish starts and stop with being able to ask to go to the bathroom and you have never set foot on a train before - perhaps you're Amish? - you'll hopefully be able to get a few of these just based on the sound alone. If you are a master Irish speaker, or someone on the run who has spent a significant portion of their lives riding the rails, then aspire to great things, aspire to scoring 11/11 and fulfill your true potential.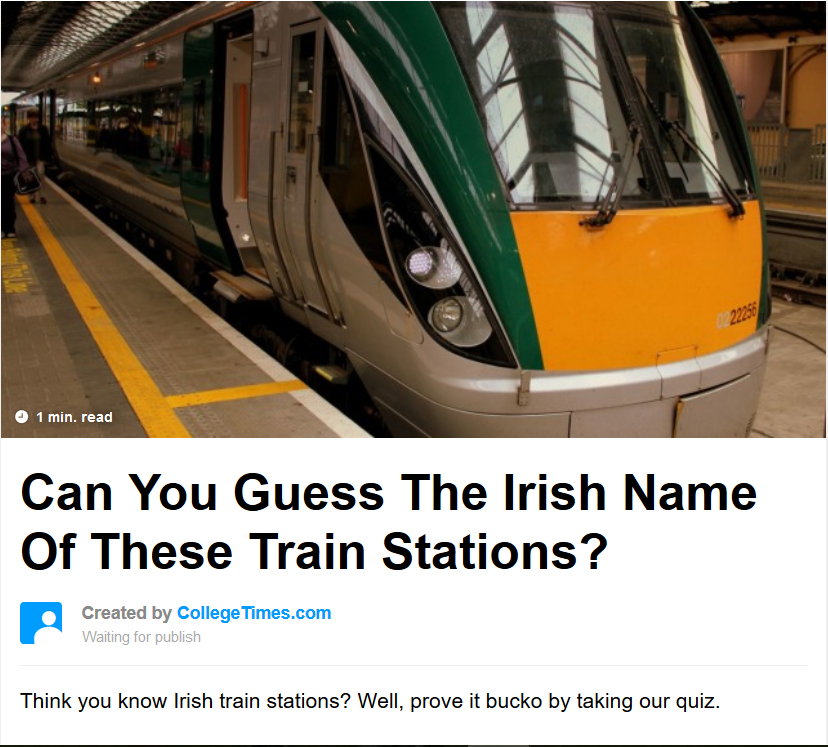 Advertisement