Last night's finale of the 2017 Rose Of Tralee was a night to remember as Offaly Rose Jennifer Byrne was crowned this year's winner but the poor auld Western Canadian Rose made headlines for a very unfortunate faux pas.
Each year viewers are treated to awkward moments that are brilliant to watch but nothing will ever be as awkward as Western Canadian Rose Sinead McGahern claiming that Ireland is in the UK.
One of the roses seems to think that Ireland is in the UK 😲😲 #Roseoftralee pic.twitter.com/fdFGuwkzLv

— Mary (@Mc1988) August 22, 2017
Naturally people were not impressed, with many 'raging' on Twitter afterwards.
If she wanted to win the rose of Tralee, mayyyybe she should learn the difference between the UK and Ireland 🙈 #Roseoftralee

— Áis💙 (@kaisling37) August 22, 2017
Advertisement
Luckily the lovely Waterford rose managed save the night by making a good ol' reference to our beloved Father Ted! Eagle-eyed viewers copped her saying 'I was lucky enough to represent the lovely girls watching the show back at home,' and knew straight away that it was a little nod to Ireland's greatest sitcom.
I think the whole country just thought of Father Ted when she said "they lovely girls" 😂😂 #RoseOfTralee

— Lisa :) (@LisaOS95) August 22, 2017
Right. The Waterford Rose just said she representing 'lovely girls who are watching'.

Games up. #FrTed. #RoseOfTralee

— Eamon Lowe (@EamonLowe) August 22, 2017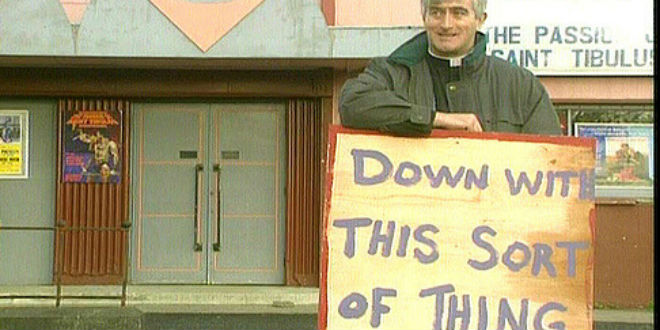 The big question still remains: was it intentional?