Did someone say study break? It's that time of the day again where breakfast was more than a few hours ago and our bellies are needing some good quality grub.
If, however, you're completely skint and can't afford anything too fancy, you've come to the right place. We've rounded up some of the best spots to grab a cheap lunch in Dublin – all for under €5. So get your knife and fork at the ready with some super-speedy lunches that won't break the bank.
1. Umi Falafel, Dame Street  – €4.50
You can grab a hummus sambo here that comes with a choice of four salads. It's healthy, delicious and most importantly – cheap.

2. The Fumbally, Fumbally Lane – €5
You can grab some delish soup and bread, scrambled eggs on toast or a falafel wrap for only €5.
Advertisement
 3. Soup Dragon, Capel Street – €5
All sandwiches, wraps and bagels are all under €5 here. They also do killer soup (well, duh) for around €5.30 - €6.50 which comes with bread and a piece of fruit if you've a bit more change to spare around with.

4. Mama's Revenge, Leinster Street South – €5
You can get rice and beans topped with salsa cheese and sour cream for only €4, or else grab a chicken, veggie, pulled pork or chilli Quesadilla for a fiver.

5. KC Peaches, Nassau Street – €4.95
Advertisement
Thanks to Trinity students Nassau Street is chockablock with tasty deals. KC Peaches offer small salad boxes that you can fill to the absolute brim for just under a fiver. You have a huge selection to choose from, so we guarantee you won't be left hungry.

6. Oxmantown, Mary's Abbey – €5
This is one of the absolute best cafes in Dublin. You can eat one of their delicious salad boxes for only €5. Side note: pretty much all their food is Insta-worthy.
7. The Noodle House, Wexford Street – €5
Advertisement
This place sells noodle boxes for only five beans. Choose from either Satay Chicken Noodles, Sweet Box, Honey Soy Chicken or Vegetable Noodles.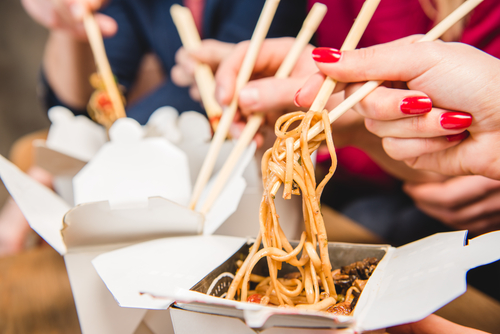 8. Ray's Pizza, Templebar – €4.95
This is the best place if you're having a "treat yo'self" kind of day. You can get a huge slice of cheese pizza, chips and a soft drink for less than a fiver.

9. Dicey's, Harcourt Street – €5
It's well-known amongst students for doing a delicious €5 carvery lunch. This includes three or four different options such as chicken and beef and will give you that taste of home you've been pining for.
Add us on Snapchat – @collegetimesct