I think it's a fact that when the sun shines in Dublin, it's absolutely glorious. Beer gardens are pushed to capacity, people are smiling and our pale Irish skin begins to freckle. However, having some fun in the sun can get expensive so we've rounded up some great activities that won't cost more than €20.
If you find yourself in need of a few activities around Dublin while there's a rare glimpse of the sun/ sunlight, we've got you sorted. All of these activities are student budget friendly and are guaranteed to make your sunny day so much better.
1. Stroll along Dun Laoghaire pier
There's nothing better than a walk along the pier when the sun starts to shine. Bring your pupper with you and treat yourself with a delish Teddy's ice-cream at the end for €2.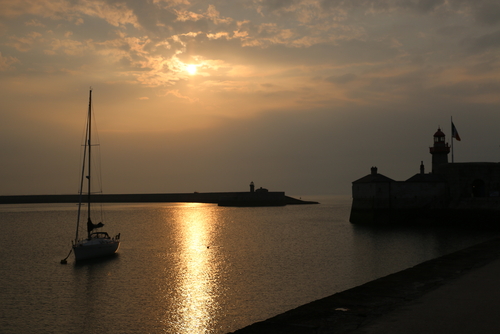 2. Head to Eatyard for some delicious grub
If you haven't been to Eatyard, go there now. When the sun shines on this place it truly is one of the best atmospheres in Dublin. There are loads of food vendors to choose from with each meal costing around €8. Sure, what more could you ask for?

Advertisement
3. Grab an ice-cream at ScrumDiddly's
Although you may have to wait for 40 mins to get your hands on one of their delicious creations, it's totally worth it. Scrumdiddly's is an institution in itself and you can get vanilla ice cream with 3 toppings for only €3.

4. Head to a Beer Garden
There are so many great beer gardens around Dublin. Some of our top picks include The Living Room, The Bernard Shaw and even some cans on the Barge for good measure.
Advertisement
5. Get your tan on at Dollymount Strand
Dollymount Strand is where Dubs go to get some sand and the sunshine. Go for a walk in your bare feet and if you're feeling brave, go for a dip.
6. Go to an outdoor cinema
Happenings have lots of outdoor cinema screenings throughout the summer. Set up in parks across Dublin, these screenings are a treat for everyone. Prices are around €5 for the event which is way cheaper than your average cinema and 10 times more fun.

Advertisement
7. Try some yoga in the park
Back to the Heart Yoga do some great morning yoga sessions at various different times throughout the summer. It's a great way to kickstart your weekend and get your flow on.

8. Head to an outdoor event or festival
There are so many amazing outdoor events happening this summer. Taste of Dublin will be taking place this weekend and entry only costs €17.50.

9. Have a BBQ
Food always tastes better outdoors, doesn't it? Grab a few friends, a garden and split the cost of a few burgers and sausages. You'll all pay around a tenner for some delish grub out in the sun.
[Main Image: Facebook/BacktotheHeartYoga]