Yes, the man who wore the giant cuddly suit purple for 10 years is now an expert on sexual healing.
The revelation came after American publication VICE interviewed the former purple tyrannosaurs rex and discovered his current career is a far cry from his days as every 90s kid's best friend. David Joyner, the man behind the purple mask, is now a qualified spiritual healer, a hobby he began in his early teens, and today runs a massage practice.
According to Joyner, his tantric massages unblocks the energy of the 30 "goddesses" who visit him. On average, Joyner treats two to four women a week at his practice in Los Angeles and clients can only be female. During the treatment woman (goddess) receives a ritual bath, chakra balancing, and a massage which is a guaranteed to make the participant orgasm. Speaking to VICE, Joyner revealed why the teachings of tantra are so important to him:
When you go down on a woman (orally), it should be just like you're saying grace, like blessing the food you're about to receive.  No food in the world can compare to goddess nectar because spirit is involved. Before you taste the goddess nectar, give thanks. Say grace. I would love women to understand how powerful that energy is."
A full session with Tantra massage with Joyner lasts three to four hours and costs $350. Although Joyner signed a contract forbidding him from talking about his tantric beliefs, Joyner used his tantric energy to "maintain an abundance of joy" during his time as Barney, whose voice was played by Bob West:
Advertisement
Before I got into the costume, I would pray and ask God to allow his loving divine spirit to flow through me through the costume and let that draw the kids. That energy would always draw them in.Children are more connected spiritually than [adults]. A lot of times when I see infants and I'm out and about at the grocery store or whatever, they start staring at me. I make the joke, 'You know who I am'.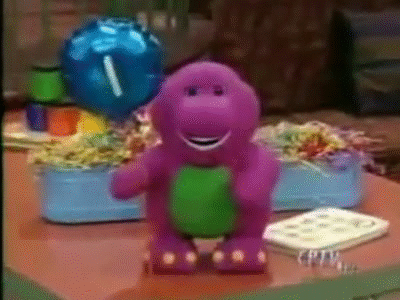 The end is nigh.