Suddenly, bottomless brunch in Dublin has gotten a lot more interesting.
Gin has exploded on to the scene in recent years with more and more people opting it for their drink of choice on a night out.
So we're pretty sure that people will be going crazy at the news that Zozimus has added unlimited G&Ts to their bottomless brunch menu.
It looks like the Dublin bar were getting flooded with requests to include everyone's favourite tipple on their drinks list, writing on their Facebook page:
**BOTTOMLESS BRUNCH NOW ON SATURDAYS**
The People have spoken & We have Listened!
We are NOW bringing to you; Dublin's most awesome Bottomless Brunch to Saturdays - you also requested Gin & Tonics to be added to the drinks list! So here you have it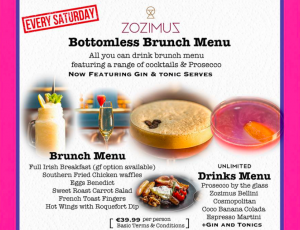 There's plenty of drinks to choose from as well. If you're not partial to a Gin & Tonic, the menu has Cosmos, Coco Banana Coladas, Zozimus Bellinis, Expresso Martinis and Prosecco by the glass.
Advertisement
The food menu gets a thumbs up too - dishes on offer include a full Irish breakfast, Southern Fried chicken waffles and Eggs Benedict.
The new bottomless brunch will run every Saturday from 12-2pm and then from 2.30pm-4.30pm and costs €39.99 per person. If you're interested in checking it out, you can book via [email protected].
Graaand!
Source of main image: Zozimus Facebook page