Pam St. Clement who played iconic Eastenders character Pat Butcher, has revealed she smokes Cannabis every day to help with arthritis pain.
Pam, 75, recently smoked the drug when she appeared on the documentary 'Gone To Pot: America Road Trip.'
The soap star has suffered from Polymyalgia rheumatica for ten years and says the pain lessened after she began smoking CBD (oil infused with cannibidiol) on the TV show. CBD is now a legal medicine in the UK.
In an interview with The Sunday Mirror, Pam said the cannabis infused oil was "wonderful." She also said explained how  'Gone To Pot changed her life.
When I went to America to find out about how cannabis has been legalised in certain states, I also discovered CBD. And I have to say that it's absolutely wonderful.

Since I have got back from America I have been taking CBD oil consistently and my limbs feel less stiff and less sore.
Before 'Gone To Pot,' Pam had not smoked weed since the 1960s. She believes the drug should be legalised in the UK for medicinal purposes.
Advertisement
Other TV celebrities took part in the show including Loose Women's Linda Robson and the gang travelled around California and Colorado in a camper, investigating the affects of marijuana.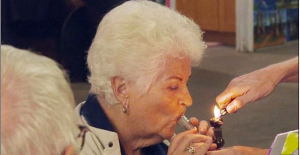 Source: ITV
Pam did a 25-year stint on Eastenders when she played the big earring obsessed Pat. She was last seen on the soap when she appeared as a ghost in Peggy's exit storyline.