Dressing as a priest has become a staple of going to a stag do, even though the blasphemy of it secretly chills us to our core.
It only becomes an issue when actual priests are thrown out of a pub after being mistaken for stag-goers. The City Arms in Cardiff, Wales, have had to apologise to a group of priests for asking them to leave the pub, as they were presumed to be revellers on a stag night.
The gang of seven Roman Catholic priests were out to celebrate the ordainment of Father Peter McClaren when they were asked by management to move along.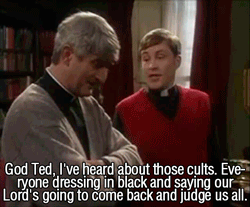 Thankfully, assistant manager Matt Morgan provided the lads with a round on the house after the situation had been explained. Morgan said that they were "all dressed in their black and white clothes". Well, yeah, priests are kind of known for wearing vestments.
"The staff thought they were a stag. We do have quite a few issues on the weekends with parties wearing fancy dress so it is our policy to turn them away", said Morgan.
The mistake is understandable. How often do you see priests down the pub? Outside of mass, how often do you even see priests in a squad of seven? Thankfully, all was forgiven.
Advertisement
A spokesman for the Archdiocese of Cardiff added:
We'd like to thank The City Arms for being good sports through all of this and their kind gesture to our seminarians.
All's well that ends well.
Via: BBC