The 45th gobshite President of the United States Donald Trump made a bit of a fluff up during one of his usual Twitter tantrums. Donald has been known to tweet out random dumb encrypted messages from time to time to his millions of followers but Google was working overtime this morning as the 'word' "covfefe" was searched thousands of times by people confused by this tweet: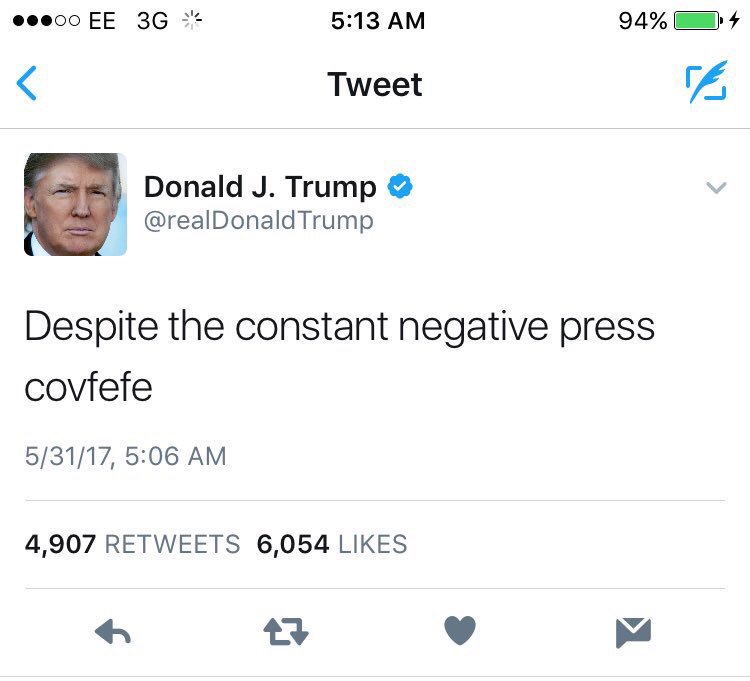 Here are the best reactions from the Twitter universe:
My dad just bought the CA license plate "COVFEFE." #covfefe pic.twitter.com/WT5bXDTRN3

— Talya Cooper (@talicoop) May 31, 2017
— Sarah Clapp (@SarahClapp) May 31, 2017
Advertisement
#Covfefe Oh god I'm dying pic.twitter.com/lXt0ulxMIU

— Fiction (@bloodypoetry) May 31, 2017
B.C. = Before #Covfefe

— Molly (@bitchyologist) May 31, 2017
who are the four greatest rappers of all time?

— Jamelle Bouie (@jbouie) May 31, 2017
Advertisement
Stop trying to make #covfefe happen, Donald. pic.twitter.com/X5NtOeyvnF

— ?alt_kellyanne? (@alt_kellyanne_) May 31, 2017
Finally figured out what Bill Murray whispered in Scarlett Johansson's ear at the end of "Lost in Translation" #covfefe pic.twitter.com/fDFJUYlEz8

— Jordan VanDina (@JordanVanDina) May 31, 2017
The word "confeve" is actually a magical word from an alternative reality:
Thank you, internet, thank you. ? #Covfefe pic.twitter.com/yLu8KOWsXP

— Andrea Dubé (@AndDube) May 31, 2017
Advertisement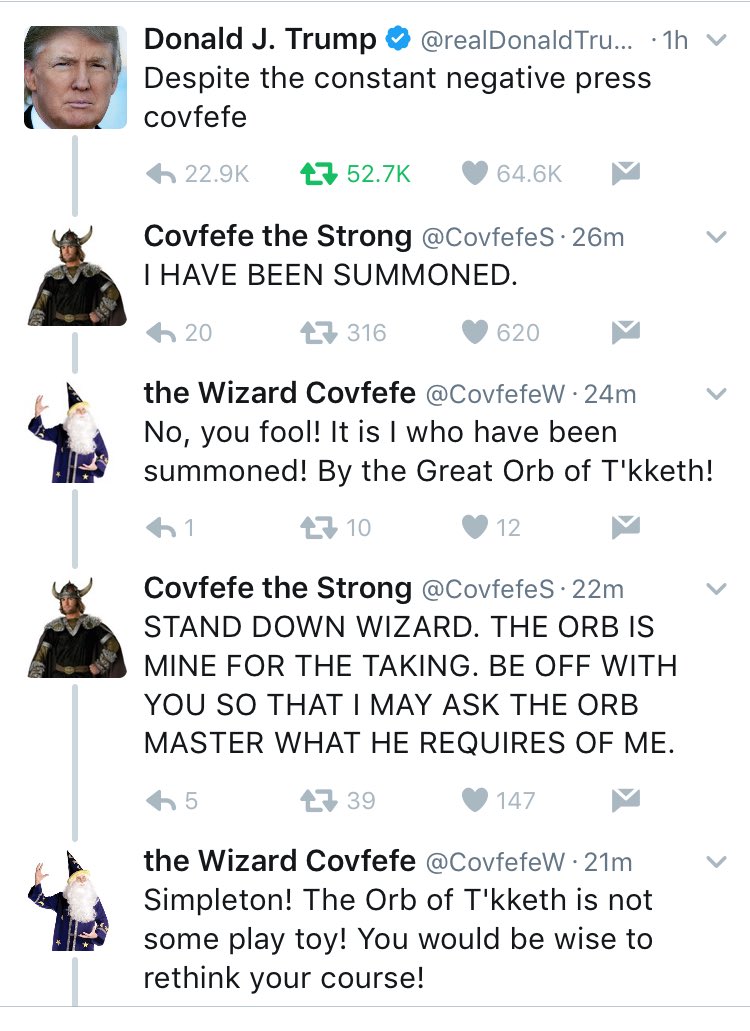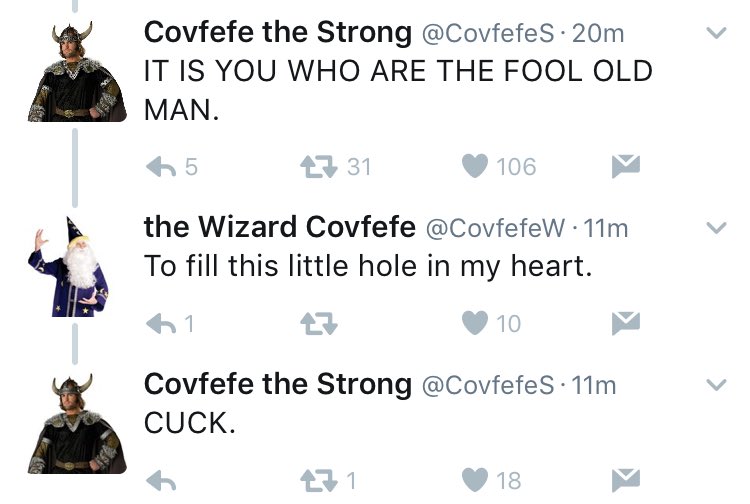 Or maybe it actually just means this:
Guys, I cracked the #covfefe code!! pic.twitter.com/X9JiG3RJp1

— Sarah (@thetigersez) May 31, 2017
And finally...
Advertisement
You see, it's funny cause we're all gonna die

— Matt Bellassai (@MattBellassai) May 31, 2017
In the future, let us all hope a serious "Trump tweet" like, say, the end of the world, will not be open for interpretation!