Summer is here and you know what that means: cheap Ryanair flights to Europe. But they aren't cheap if you need to spend extra to haul over check-in luggage so you gotta make the most of that carry-on space. If you've yet to master the art of packing light, don't worry, we got you. Here are some Ryanair carry-on packing tips for your summer getaway:
Ryanair cheap flight carry-on packing tips
1. Don't bother with those empty containers for your cosmetics
Take it from me: those little DIY fill up bottles you see at the pharmacy are not worth your while. It's time-consuming and messy trying to pour your fave shampoo and conditioner into the bottles. Instead, buy those little toiletries from Boots. They have heaps of brands to choose from and they're all under 100ml.
2. Plan your outfits
Advertisement
If you're limited on carry-on space, you're gonna need to plan your outfits. This is actually more fun than it sounds and will allow you to enjoy yourself instead of obsessing over what you wear every day. It also means you won't rock up to Barcelona with 600 tops you won't wear.
3. Breeze through security checklist
There is nothing more infuriating than getting your bag set aside at security, especially if you're running late. Here are a few things to do to make sure get you through without hassle:
Separate those liquids and have them ready to put in the tray
Take off your shoes if they're boots (or wear slip-ons instead)
Take off your jacket or coat and place in the tray
Take anything out of your pockets
Avoid wearing jewellery like a watch or a belt as you'll have to take it off
Take off sunglasses, beanies and hats
Make sure you don't have a full water bottle or any oversized liquids or sprays in your bag
Have your laptop ready to take out if you are bringing it
4. Don't bring anything ~just in case~
If you think you might need your hair straightener or an extra pair of heels, you won't. Leave anything you don't absolutely need behind. Worst case scenario, you'll have to buy it there.
Advertisement
5. Leave the big items at home
If you are staying at a nice hotel or even a good Airbnb or hostel, they most likely will have hairdryers, so forget about bringing one along.
6. Use a pill box for small jewellery
One awesome packing tip to remember is to use a pill box to store your earrings and thin necklaces. You will thank me later.
7. Stuff socks and underwear into your shoes
This is a pretty well-known tip but how many of us forget to do it? There is so much room just being wasted, WASTED.
Advertisement
8. 3 pairs of shoes, max
Never bring more than 3 pairs of shoes. Who are you kidding?
9. Bring a travel adapter
They use different chargers throughout Europe so bring a good quality travel adapter that has extra USB ports in it.
10. Always pack your togs
You never know when a swimming pool or beach could appear! Always be prepared, even if you're going somewhere cold.
Advertisement
11. Bring snacks for the flight
Don't buy expensive airport or airline food - bring your own snacks like dried fried or nuts, or even a sandwich.
12. Don't forget plastic bags and ziplock baggies
These are a lifesaver for dirty laundry and separating stuff in your bag!
13. Wear your heaviest items to the airport
Never pack something heavy that you could just wear. We're talking coats, boots, jeans!
Advertisement
14. Colour coordinate everything
When you're packing, avoid bringing anything you can't mix and match. Sure, it's a cute top but does it go with everything else? Be smart, lads.
15. Get a backpack handbag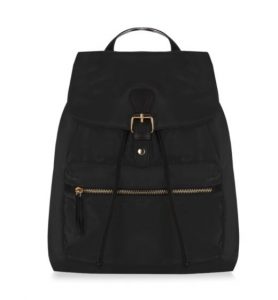 My holy grail travel item is a backpack handbag. I grabbed mine at Penneys for €10 and it is amazing. You can carry it on your arm or your back. Life is good.
16. 7-day summer packing list
7 x underwear (+ 3 bras)
3 x shoes (wear heaviest ones on the plane) - flip flops, flats or boots, runners
1 x dress
1 x skirt
1 x shorts
4 x short sleeved tops
2 x long sleeved tops
1 x pair of togs
2 x pairs of pants - yoga or baggy pants, jeans
1 x jumper (wear on plane)
4 x pairs socks
adapters and chargers
liquids bag
sarong (can double as scarf)
travel pillow and mask
toiletries such as makeup wipes, toothbrush etc
makeup (essentials only)
ziplock and plastic bags
pegless clothesline
sunglasses
empty water bottle
snacks
passport wallet
ereader
phone
Also read: