"You don't always have to be who they want you to be, you know."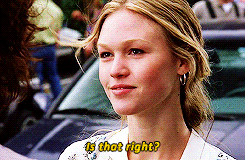 The 1990s gave us a string of magical movies but few are as powerful as the teen movie 10 Things I Hate About You. Full of cringe-inducing laugh out loud moments and coming of age truths, 10 Things centered on sisters Kat (Julia Stiles) and Bianca who navigate their final year of high school and love interests under the watchful eye of their protective father.
The movie introduced us to the wonders of Heath Ledger who starred as Kat's love interest, Joseph Gordon-Levitt, and  Julia Stiles and is based on the Shakespeare play The Taming Of The Shrew - a shrew being a derogatory term of a woman who is assertive or hot-tempered.
One moment struck a chord with audiences and left us returning to the classic, the poem '10 Things I Hate About You' that Kat recites to Patrick during English class but can you remember it?
Advertisement