If you have been living under a rock during the weekend you may not have heard Love Island's fourth last couple have split. Yep, that's right, Megan and Wes are officially over...Or are they?
Obviously, with these celebrity couples there's always room for speculation after a break-up, but according to 'experts', this one seems especially suspicious. Before we get into the different theories of why the couple may be faking their break-up, let's analyse the break-up statement from Megan and Wes first.
The first thing to take into account is the obvious copyright, taken from Gwyneth Paltrow and Chris Martin's iconic break-up statement. Many people are praising Megan for her witty announcement, (which is also a reason why people think it's fake. Doesn't it seem a bit too impersonal?)
She wrote:
"It is with hearts full of sadness that we have decided to separate.

"We have been working hard for well under a year, some of it together, some of it separated, to see what might have been possible, and we have come to the conclusion that while we love each other very much, we will remain separate.

"We are, however, and always will be a family, and in many ways we are closer than we ever have been."
Megan then goes on to describe the importance of them staying friends, to care for their pet hamster that both of them love so much, as parents. (Bit odd, but ok.)
"We are parents first and foremost to one incredibly wonderful hamster and we ask for his and our space and privacy to be respected at this difficult time."
Advertisement
The ending of the statement has a touch of Love Island nostalgia attached to it, with the use of the term 'uncouple' being used to end their near seven month relationship.
"We haven't really conducted our relationship that privately, and we hope that as we consciously uncouple and co-parent, we will be able to continue in the same manner.

"Love, Megan & Wes."
Now, to the important part. Why do theorists believe that Megan and Wes' break-up is a stunt?
Well, firstly, it all seems very well thought out. Last week, Megan and Wes made headlines when Megan made a remark on her Instagram, sending out a dig to Wes' Dancing On Ice partner, Vanessa Bauer, claiming that she coincidentally announced her break-up with her own boyfriend, just in time for her and Wes' debut as a skating couple.
Even when this passive-aggressive statement was made by Megan, some even believe that her making this remark was also very coincidental, being posted just after the pair made their way into the ice-rink.
Of course, being in the spotlight can be hard for a new couple, and Megan is completely entitled to have her insecurities, but that doesn't mean that we can't speculate that there's something else going on here.
Advertisement
Secondly, Megan stilled showed up to Wes' performance last night on Dancing On Ice, a day after announcing their break-up, seeming happy and extraordinarily supportive of her 'mate', Wes.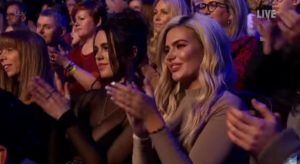 Of course, she could've been there as a supportive friend, or maybe she didn't want to waste a free ticket to an amazing show. Either way, it does seem semi-peculiar that she showed up. Many fans have expressed their unwillingness to believe the couple have split.
Are Megan and Wes trolling us with this break-up statement? They're 'consciously uncoupling' and going to 'co-parent' their hamster? ? I'm calling BS #loveisland pic.twitter.com/erX5djhf8I

— Ellie Lees (@EleanorRJL) January 26, 2019
Another Twitter user claimed: "Megan and Wes are 100% still together and this is all a publicity stunt. Co-parent a f****** hamster. Nope. i'm not 'avin it"
Advertisement
Thirdly, even body language expert, Judi James told Metro.co.uk, that the pair were both giving off tell-tale signs that they were in fact still seeing each other. According to Judi, Wes' routine showed that he was more nervous than usual, which may have been caused by Megan's gleaming support from the audience. She claims that Wes should be working on his chemistry with his dance partner, but instead, is still hung-up on his recently 'split' relationship.
On Megan's part, there was a small sign that showed cracks in her seemingly 'over-it', happy attitude.
Judi says,
"Oddly her pleasure and support looked genuine apart from one very small tell or give-away. When she smiled the very corners of her mouth twitched in a downward direction as a signal of some more complex emotions behind the laughter,"
Well there you have it. You've heard it here first. Megan and Wes are still together and are lying to all of us devastated Love Island fans.
Soon enough they will be announcing that they have recoupled "for the sake of their hamster", determined to give it another shot to be a happy family.
Advertisement
Also Read: