It's the moment all Devil Wears Prada fans have been waiting for. Meryl Streep and Anna Wintour have finally met and at the Vogue headquarters - Dreams really do come true.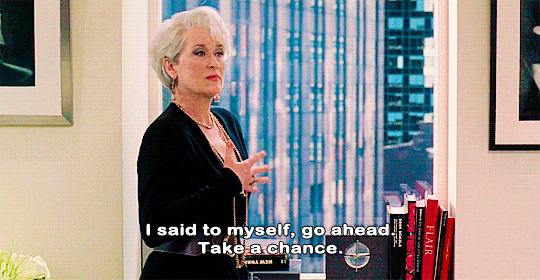 Fans of Devil Wears Prada will know that Meryl played Miranda Priestly, the devilish and controversial Editor in Chief of the fictional high fashion magazine Runway, which was loosely based on the real-life Anna Wintour, Editor in Chief of American Vogue.
Of course, Meryl was promoting her new movie The Post where she plays the late Katherine Graham, an American publisher who ran The Washington Post. Anna Wintour was friends with Katherine and interviews Meryl about Katherine and the possibility of a female presidency. A sentimental moment occurs at the end as Anna passes Meryl a copy of Vogue with Meryl on the cover bringing a tear to Meryl's eye.
Here's the full interview with the pair. Side note: Notice Meryl's foot pop when she kisses Anna on the cheek:
Advertisement
Twitter users melted at the thoughts of the pair together and others felt Anna doesn't deserve the admiration:
Anna Wintour: "Obviously you've played a lot of extraordinary women. What was the most challenging woman you've ever played?"

Meryl Streep: "Hmm... Oh! I should say y--"

Anna Wintour: "No. No, we're not going there, Meryl." pic.twitter.com/hrCQAjRPOc

— Spencer Althouse (@SpencerAlthouse) November 9, 2017
That Meryl Streep and Anna Wintour interview is iconic. pic.twitter.com/JuuUV3uv1u

— Millie (@emiliacorkery) November 12, 2017
Meryl Streep and Anna Wintour together. it's like the stars aligned ????????

— Queen Benny (@BENNYARCILLA) November 10, 2017
Advertisement
innit mental that Naomi Campbell was ostracised as the 'angry black woman' for throwing a phone at her assistant but Anna Wintour had a memoir and film made about her being emotionally abusive to her staff and the take away was 'Meryl Streep was great in that'

— groundskeeper fanny (@ThatQueenFanny) November 10, 2017