Whether it's a Monday Morning, or a Wednesday evening we all need some motivation to help us get through the long week. We all know the best ways to get some inspo nowadays is to either look at motivational quotes on Pinterest or to listen to some feel good music. Here we have compiled some of the best motivational and feel good playlists on Spotify.
#MondayMotivation
This playlist is full of motivational bangers. From Duo Lipa to Mr Kanye himself there's something for everyone. Listen to the playlist here.
Beat The Sundzay Fear x
Online influencer, Doireann Garrihy curated this playlist. Doireann is part of Spin1038's ZooCrew so we have to have faith that her music taste is good. Judging from this playlist it definitely is. Listen here.
Monday Office Mornings
If this playlist doesn't get you pumped for the week ahead I don't know what will. From George Ezra to Bastille and Imagine Dragons there's plenty here to get you motivated. Find it here.
Advertisement
Monday Morning Blues Go Away
This playlist has the best mixture of songs and genres ever!! From songs like Son of a Preacher Man by Dusty Springfield (A Classic) to The Sweet Escape by Gwen Stefani feat Akon it has everything. With 228 songs, can you ask for any more? Listen here.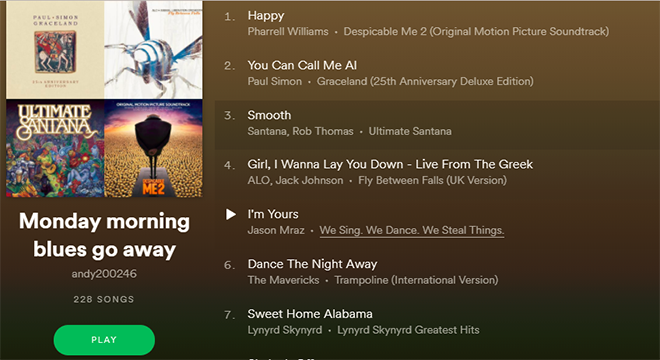 Morning Motivation
All we can say to this playlist is YES! 3 hours and 44 minutes of pure motivational bliss. With the likes of The Weeknd, Zara Larson, Calvin Harris and Ed Sheerhan we just cant keep still whilst this is playing! Find it here and thank us later.
Motivational/Rap/Hip Hop/Pump-Up/Workout
I think the title of this playlist may give away what type of music is in it. If you're looking for something to really get you pumped and ready for action, look no further. 20 hours of the best Motivational/Rap/Hip Hop/Pump-Up/Workout songs with the likes of JAY Z, Drake, Eminem, Fetty Wap and much more, find it here.
#NowPlaying Motivational/Rap/Hip Hop/Pump-Up/Workout di Elin Svanold ♫ https://t.co/fYDGLYacOP

— NaZa The OrC©®™ (@OMeGaNaZaOrC) December 28, 2017