Make yourself a cuppa, curl up by the fire (or a warm radiator, either works) and get lost in one of these brilliant reads.
1. Asking For It by Louise O'Neill
A hard-hitting exploration of rape culture and the issue of consent in a digital age, O'Neill skillfully paints a very unlikeable protagonist in 18-year old Emma who becomes the victim of a gang rape at a house party. Graphic photos are circulated online and Emma's world is turned upside down, not least because of the widespread condemnation she receives from her community in the aftermath. Packing a painful punch, it's an absolute must-read.
2. Wild by Cheryl Strayed
A memoir soo powerful they made it into a movie starring Reese Witherspoon, Wild recounts Strayed's journey of self-discovery as she hikes across the Pacific Crest Trail, solo and unprepared, in a bid to lose her demons following the death of her mother. An inspiring read, it will strike a chord with anyone who has lost themselves to grief, or indeed anyone who has taken a massive leap outside of their comfort zone.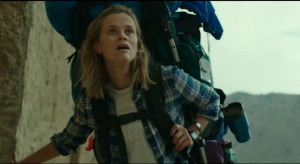 3. The Handmaid's Tale by Margaret Atwood
Advertisement
This grim, dystopian tale depicts women being raped, mutilated and murdered in the service of men. Women are forced to bear children for women of a higher status. It represents themes that are scarily prevalent today and like its' TV adaptation, it is harrowing.
4. Yes Please by Amy Poehler
Poehler engages in some good emotional sharing and imparts some worthy life advice in this memoir. On fun, she writes: "Nobody looks stupid when they are having fun." On careers: "Try to care less. Practice ambivalence. Learn to let go of wanting it. Treat your career like a bad boyfriend."
5. The Notebook by Nicholas Sparks
We hardly need to big this one up do we? Sparks' beautiful description of Noah and Allie's epic romance is guaranteed to give you all the feels. The story ultimately shows us true love is never really lost. *Not crying, not crying.
6. Girl On The Train by Paula Hawkins
The protagonist of this thriller is Rachel, a divorced alcoholic who becomes slightly obsessed with a couple she sees out the window of a train during her daily commute. When the girl goes missing, Rachel becomes intertwined in the investigation and, as it's a first-person narrative, readers will be left wondering how reliable Rachel's version of events is. You won't be able to put this down - kudos if you guess the excellent twist at the end.
7. Harry Potter and The Philosopher's Stone by J.K Rowling
The first in the Harry Potter series, this book sparks with wit and charm as Harry discovers he has magic in his blood. Rowling casts a powerful spell on readers from start to finish and it gives you that nostalgic warm feeling everyone is searching for this time of year.