Us Irish always punch above our weight.
For such a small country, we've had a cultural impact far greater than the size of our island. From exporting Hollywood actors to turning the whole world green on March 17, it's fair to say we make our mark.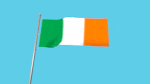 So, considering this week's VodafoneXCast is all about music, we've decided to compile a Spotify playlist chockfull of some of the greatest songs ever to come out of Ireland.
There's a fierce mixture of tunes, and they'll all make you proud to be Irish.
You can listen to the playlist below:
Advertisement
Our host Greg O'Shea is joined by Hazel Lattimore from the TUD Philharmonic Society, Liyana Kukkadi from the Music Society at Royal College of Surgeons Ireland, and Rebecca Dineen from UCC Music Society.
On this week's podcast, Greg and the guests discuss their different experiences with music, their love for music, and the different work that their college societies do.
Click here to follow the podcast on Spotify so you never miss an episode.
Vodafone X can offer you unlimited data, unlimited texts and unlimited weekend calls for just €20 per month.
Vodafone X also offers an online portal where you can access Skill Share courses in multiple different genres and spaces.
With Vodafone X, you are free to explore different areas of interest, discover new ones and fuel your future - it's in your hands.