Fans of Keeping Up With The Kardashians probably never may have wondered what a culchie version of one of the most famous families in the world would look like.
We've put together just a few examples of what life for the clan might look like if they lived in rural Ireland.
1. Clearly, they'd all have different names. Kris aka Kay would be mammy to five lovely girls - Clodagh, Catherine, Claire, Kayleigh and eh, Carmel.
2. Kylie would be the ultimate Penney's hun having released a make up line in collaboration with the chain.
3. Kim would have had a total meltdown over losing her Alex and Ani earrings while swimming on holidays in Bettystown.
Advertisement
4. She would have also left her second husband because he didn't have any road frontage.

5. An iconic episode 'Dhrawin' in silage' would have garnered 1.5m views.
Advertisement
6. Spin off 'Keeping Up With Coppers' would be a big hit with fans.
7. Khloe's marriage to Lamar would have abruptly ended after he cheated on her at a Stags in Amsterdam.
8. 'Sure where would you get it?' and the word 'Well' would become part of the Kardashian language. "Kanye, are ya well?"

9. All the lads would be mad to take Kendall for a few spins around the town.
Advertisement
10. Kylie's pregnancy would be the talk of the parish. During the entire 9 months, she was only spotted out twice by locals. Both times were at mass.
11. Girls in the town wouldn't know what to make of Rob's methods of seduction.
Advertisement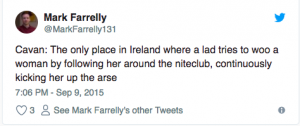 12. On Saturday nights, Scott Disick would be mad for starting fights in the chipper while waiting on his Salad Burger.
13. The show would be renamed Keeping Up With The Deaths, given that Kris would be regularly checking newspaper death notices and 
RIP.ie to find out who's the latest person to have met their maker. 
Advertisement

14. Rather then an Olympic gold medal-winning decathlete, Caitlyn Jenner, formerly known as Bruce, would be a retired GAA player, her relationship with the family still strained.
15. It wasn't a sex tape that propelled Kim to massive fame - no it was a guest stint on Fair City when she played a character who seduced Mondo in a much talked about episode.