The wildcard weekend was arguably the best weekend of football (bar maybe the snowstorm Sunday) this season. The Colts completed a surreal comeback from 38-10 down against the Chiefs to win 45-44. The Chargers upset the pathetic Bengals, the Saints finally got a road win against Philly and The Niners pipped the Packers 23-20 with a field goal in the dying seconds.
If this season has taught us anything, it is that being a favourite by no means guarantees the win and I wouldn't be surprised if there were  few more shocks this weekend.
New Orleans 20-24 Seattle (Saturday @9.30pm, Sky Sports 3)
The Saints surprised me by beating the Eagles on the road. The more I look back at that win, the less and less shocked I am, because Philly have one of the worst home records in the league and on paper, New Orleans are a better side. However, this week they travel to Seattle, the best side in the league on all fronts. Sean Payton has even had a Seahawks logo painted on their practice field to acclimate his side to Saturday's conditions. Unless he has a few thousand hostile fans to watch their practice, it might be a waste of time. I admire the Saints and their philosophy. They're an attractive side to watch but I can't look past a home win this weekend. I think Brees will test the Seahawks defence like few have done this season and redeem himself for his earlier performance against the Hawks this term.
Indianapolis 37-34 New England (Sat/Sun @ 1am, Sky Sports 3)
Advertisement
As I said before, I expect a few more upsets and while the Colts are considered underdogs here, I think their momentum from that comeback against the Chiefs could give the Patriots a problem. I feel like we'll see another high scoring game. Brady has lead an injury ridden squad to the second seed and won games where many pundits didn't expect them to win this season. Here's where this game will be decided; The Colts defence. If the defence that allowed 38 points in the first half against the Chiefs shows up, Brady will eat them alive. If the side that pulled it back to 45-44 in Indianapolis on Saturday night shows up, we'll have another great game to look forward to. Luck has proven he can carry this side and he has weapons too, even without Reggie Wayne. I think the Colts defence will have some confidence breathing through them and Andrew Luck will feel like Superman coming into Foxbourough.
San Francisco 27-17 Carolina (Sunday @6pm, Sky Sports 2)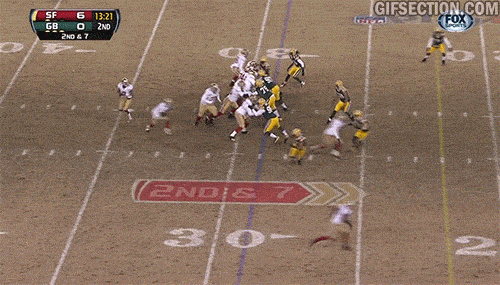 I've been saying for a while that I expect the Niners to go far. On top of this, I think the Panthers haven't had the toughest schedule this season. Thats not to take credit away from one of the best defences in the league, but the Niners defence is equally as impressive recently, for me. Aaron Rodgers had some joy against them in the wildcard weekend, but even then, only managed two touchdowns and he's arguably the best QB in the league. Kaepernick armed with Boldin, Davis and a resurgent Crabtree have enough in the tank to win here and I think they'll do it comfortably, too. One concern for San Francisco might have is how tired they might be after the slug-fest in Lambaeu, although they shouldn't need to worry about sub zero conditions this Sunday.
San Diego 24-27  Denver (Sunday @ 9.30pm, Sky Sports 2)
San Diego: The Chargers beat the Broncos all of four weeks ago in Denver.
Won their past five games, including a road trip to Cincinnati on Sunday.
Held five of their last six games opponents to under 20 points.
Denver: Peyton Manning holds a reputation for not playing well in the playoffs or in the cold.
Missed Wes Welker in 27-20 loss to San Diego, he's available this time out.
You can read into past records, omens and reputations all you want but when it comes down to it, Denver have been the AFC's best side consistently throughout 2013. A few blips, sure, but a home game to a 9-7 San Diego shouldn't worry too many Broncos fans, except for all the stigma attached to Peyton's playoff records. Does this play on his mind? His managers mind? San Diego's mind? If the answer is yes, then I wouldn't be surprised to see a San Diego upset here. However, more importantly than all the records is Peyton Manning's legacy. In all his years of success and completion rates, he has but one championship to his name. With only a year or two left, rings are few and he knows this could be his best chance for a second Superbowl. Denver take this for me, but as I said, be weary of those Bolts.
Don't forget to update your playoff challenge roster before Saturday: www.nfl.com