Ah, Aer Lingus.
We love you at the best of times, but right now we could just downright KISS you.
When Khalid Wafiq Kamel (pictured) boarded a flight to Berlin, he witnessed another man abusing two fellow passengers – followed, quite swiftly, by an absolutely awesome response from the airline.
In a Facebook post that will make you insanely proud of our national flag carrier, he said that the actions of the airline made him feel 'safe and respected'.
The post in full reads:
I was on Aer Lingus 0330 flight this morning from Dublin to Berlin. Before taking off, a passenger showed an abusive behaviour against two other Muslim passengers. The crew reacted promptly to stop him, and the offending passenger was removed from the flight.

I would like to send a special Thank You to Captain O'Shea and the rest of the crew for making my day.

As a Muslim, I felt safe and respected being in Ireland and on Aer Lingus. As one of the crew said 'We are all equal'. Thank you Aer Lingus
Advertisement
Unreal stuff!
The post drew a phenomenal response from the public – as well as an appropriately classy reply from the airline itself.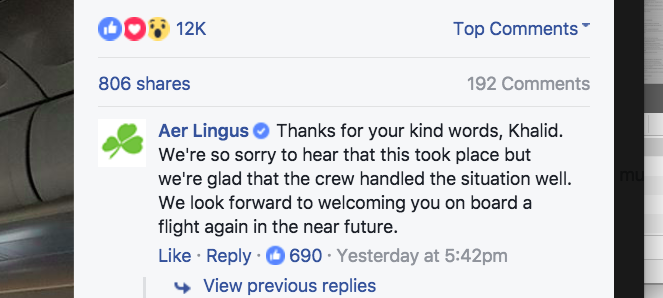 Makes ya proud, wha!