The most holy liquor of all is being celebrated around the world this weekend. Pubs all over the globe are hosting events to participate in the fifth annual World Buckfast Day. Here in Ireland, The Bernard Shaw in Dublin is hosting 'The Buckfast Weekender'. If you aren't a Bucky connoisseur,  here's a lowdown on the famous tonic wine.
1.It has a long history
The story of Buckfast begins in a Benedictine Abbey in England. A nephew of a French monk visited Buckfast Abbey in Devon, and brought with him a recipe for tonic wine. From there, the legend was born.
2. It originated as medication
The monks originally sold the wine in small quantities as a medicine, using the slogan "Three small glasses a day, for good health and lively blood". In 1927 the monks lost their license to sell wine, and as a result, there was less of an emphasis on its medicinal properties.
3. You can cook with it
Buckfast have an extensive selection of recipes online and some of them are quite impressive. To name a few; Bucky Burgers, spiced Buckfast mushrooms, Buckfast onion marmalade, Buckfast glazed gammon, seared scallops Buckfast crispy bacon. The possibilities are seemingly endless.
Advertisement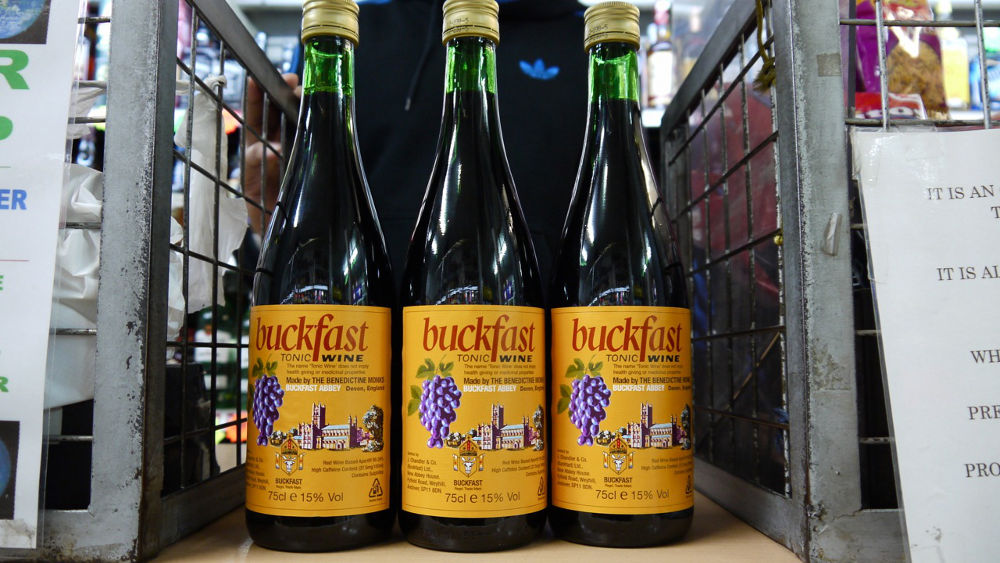 4. It has an impressive selection of nicknames
Its cult status in Scotland has given rise to an array of colourful nicknames, mostly Scottish in origin.  "Wreck the Hoose Juice", "Commotion Lotion", "Cumbernauld Rocket Fuel", "Mrs. Brown", "Buckie Baracas","Coatbridge Table Wine", and a bottle of "what the hell are you looking at?"
5. Buckfast has given rise to place names
In 2017, during renovation work in Galway, thousands of bottles of the wine were found underwater near the Spanish Arch, because of this, a local councillor referred to the area around it as "Bucky Plaza". In Scotland, the area, between Airdrie, Coatbridge and Bellshill has become known as the "Buckfast Triangle"
6. Scottish Politicians Wanted It Banned
In 2005, Scottish Justice Minister Cathy Jamieson suggested that retailers should stop selling the wine. On a subsequent visit to Auchinleck within her constituency, teenagers chanting, "Don't ban Bucky" greeted her. Andy Kerr, the Scottish Executive's Health Minister, described the drink as "an irresponsible drink in its own right" and a contributor to anti-social behaviour.
7. Scottish Criminals Love It
In January 2010, a BBC investigation revealed that 5,638 crime reports in the Strathclyde area of Scotland from 2006 to 2009 mentioned Buckfast, an average of three per day. In 2017, Scottish Police reported there had been 6,500 crimes related to the drink in the previous two years. One in 10 of those offences were violent and 114 times in that period used the bottle as a weapon. A survey at a Scottish young offenders' institution showed of the 117 people who drank alcohol before committing their crimes, 43 per cent said they had drunk 'Wreck The Hoose Juice'.
'Commotion Lotion' certainly has a reputation, but it still has a special place in the hearts of many Irish people.