You may know Jameela Jamil from T4 on Channel4 back in the day or more recently for the Netflix series "The Good Place". Jameela, a self-described 'feminist in progress', is also the creator of the @i_weigh movement. The I Weigh community values people on their achievements and attributions rather than what they weigh or how they look. Another step in the body positivity movement, Jameela's latest focus is a petition to stop celebrities promoting toxic diet products
Jameela's I weigh movement began when there was a picture published of the Kardashian/ Jenner clan which listed all their weights.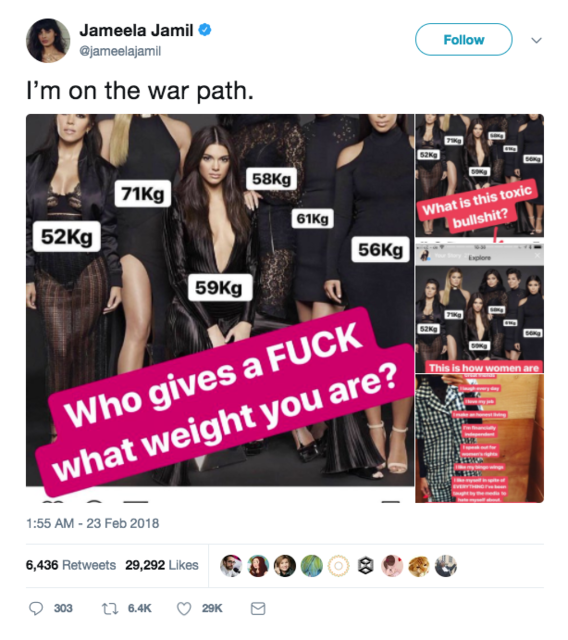 Further fuel was added to the fire when the Kardashians and other celebrities began to use their influence to promote damaging products like Flat Tummy shakes, a meal replacement shake that basically gives you runs.
Jameela hit back by saying she hopes that "all these celebrities all shit their pants in public, the way the poor women who buy this nonsense upon their recommendation do."
Advertisement
The 32-year-old actress, presenter, model and activist has a personal connection to the movement. As a teenager, Jameela suffered from anorexia and understands first hand just how influential celebrities can be. With this new petition, she is calling social media platforms to stop these types of posts being posted by celebrities. She is also appealing to celebrities to be responsible in what they promote and realise the influence they can have on young women. These "diet products" prey on people's insecurities and are presented in glossy, paid adverts by celebrities with no nutritional expertise. It doesn't take into account the team of people celebrities Kardashians have behind them to help look after their figure;, the personal trainer, personal chef, plastic surgeon and of course, the Kardashian's best friend, Photoshop.
HELLO! ❤️ I've made a petition to try to stop celebrity endorsement of pseudo science detox/diet products that can be harmful to your health, and can encourage disordered eating. Let's stop this toxicity together. Please Sign the Petition! https://t.co/4ftmKlCQEt via @Change

— Jameela Jamil (@jameelajamil) February 5, 2019
This petition is part of the larger conversation happening around social media influencers and ad transparency. The recent Fyre Festival Documentary highlighted the indiscriminate nature with which many influencers will lend their image to a product or campaign with necessarily doing due diligence to ascertain its authenticity. Victoria Secret models were paid to promote the Fyre Festival, the "luxury" music festival that was anything but, and all did so without using the #ad.
To join the movement against shame and stop celebrities promoting toxic diet products on social media you can sign Jameela's petition here