Aer Lingus has announced a new 'Saver Fare' for transatlantic flights, which will offer customers more choice and flexibility.
The new fare includes one piece of 10kg cabin baggage, in-flight entertainment and on-board meals. Guests can also choose from a range of added on extras, from checked baggage, seat selection, blanket, headphones, at additional cost.
Declan Kearney, Aer Lingus Director of Communications, said:
At Aer Lingus we are committed to offering our guests the best value with the best service across our network and to North America. We recognise that there is not a one-size fits all for today's traveller and we want to provide an array of fare choices for our guests. That's why we have introduced our new Saver Fare, recognising the desire for some travellers to go à la carte, book their flight and choose any additional extras should they so wish.

 While our new Saver Fare will appeal to certain travellers, our Smart Fare which includes all our usual extras is still great value to North America. With more choice than ever for today's traveller, Aer Lingus represents the best value because we serve central airports, and offer four star service now at an even more affordable price.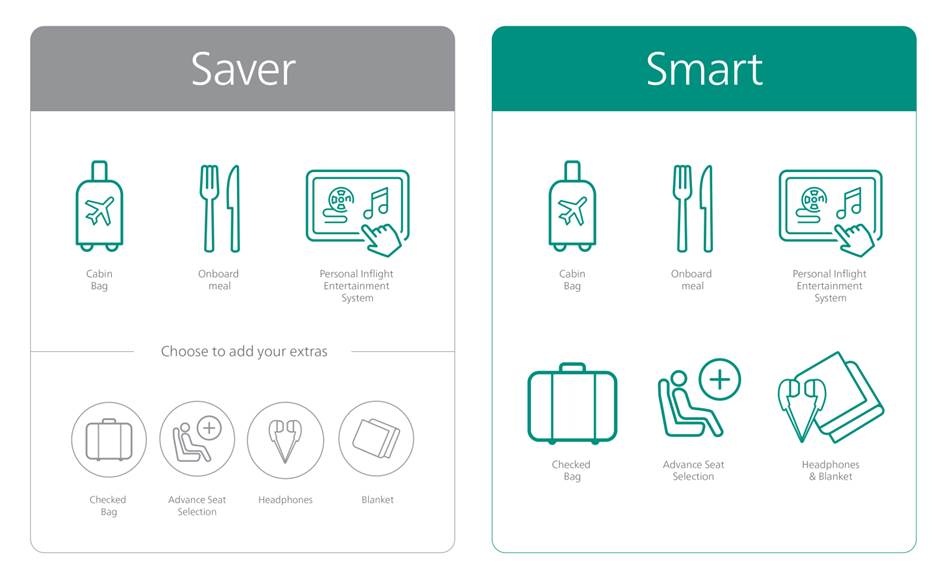 Advertisement
The 'Smart Fare' includes 23kg checked baggage, 10kg cabin baggage, complimentary meal and drinks, in-flight entertainment, seat selection, headphones and blanket, and starts from €209.
Aer Lingus Saver Fares start from €169 each way as part of a return trip. You can book your Saver Fare now for travel from 01 October 2017. The fare is available on direct flights between Ireland and North America via AerLingus.com.