What are the Yanks like? It's come to the world's attention that most Americans don't own kettles. How on earth any human race could survive without a kitchen appliance that is so ingrained in Irish society is beyond us.
Can we just let this sink in a bit: instead of using a kettle, Americans boil their water in the MICROWAVE. Yes, they heat up their water in a microwave, use one of those ghastly stovetop kettles or heat it up in a pot. It's safe to say the Twitter-verse lost it;
what!?! So they boil water on the stove? In a saucepan or do they have "Polly Put The Kettle On" kettles?

— Jo (@pretendyelling) March 8, 2017
Alright Americans, be real fkn honest with me here

Do you have electric kettles to boil water, or do you actually use a fkn microwave?

— LoneVaultWanderer (@LoneVaultWander) March 9, 2017
More likely to find a hand gun than an electric kettle in a kitchen in America https://t.co/lOioFP8sb8 pic.twitter.com/xI6C5Jrhpk

— 😷Jade & David for a Better Australia🟤⚪️⚫️🟡 (@PerthWAustralia) March 9, 2017
Advertisement
Some sick individuals admitted to the reasoning for not owning an electric kettle, a disclaimer, this might cause fits of anger;
#electrickettle controversy 😂😂nvr had 1 bc I don't drink tea v often. I have stove T pot, drip coffee makr, french press; no elec kettle.

— Shade Queen, House of Evangelista (@ShadeQueenAlexa) March 9, 2017
I use an electric kettle but sometimes microwave + bamboo skewer

— Garr (@betheymoth) March 9, 2017
Advertisement
I think what this whole controversy has shown us is that Americans have no idea what they're talking about. I don't care if they claim it heats up the water quicker, I don't care if it's to do with their voltage, what I care about is how morally wrong it is to heat water up in the microwave.
What would Mrs. Doyle think of this?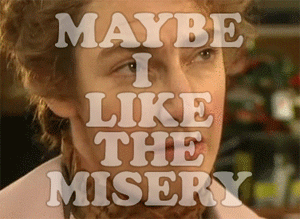 Add us on Snapchat – @collegetimesct