Monopoly. There are few better feelings in the world than staring across at a member of your family as they slowly exhale and, with grim resignation, slide their tiny metal effigy of a dog toward your yellow property that is replete with red hotels - literally festooned with dozens of the bastards. Their financial ruin is the fuel for your enjoyment; taste their impending penury as their small silvery hound glides towards destruction - like a young soldier in the First World War sent into no man's land toward a scything hail of machine gun fire. You have taught them, your family member, of the market's caprice; of the ruthlessness with which capitalism's churning maw will devour all that falls before it. You hope that these lessons will stand your nephew in good stead when he begins primary school and, with your coffers now bulging with his seized assets, you try offer some consolation.
However, one of the few better feelings than besting a significantly younger blood relative at Monopoly must surely be plying what could only be considered an unreasonable amount of money - in my mind anything above €5 - to pay for the exclusive naming rights of a square on a franchised Monopoly board. One can only imagine the warm sense of smugness that would ripple through your body as you remove the cellophane from the new game and, unsheathing the board contained within, gazed down at the small coloured square denoting that which you had so long sought - an exclusive Monopoly tile.
Well, such is the path that DCU have decided to take, cementing themselves as the sole third-level institution on the board of Dublin Monopoly. Though there are two other educational institutions, St Columba's College and Nord Anglia, which fill out the board's second and third green squares - the game's second most prestigious.
For the right to be the sole third-level institution DCU, according to The Times Ireland, paid for the most expensive package offered by Winning Moves, the company, licensed by Hasbro, that runs Monopoly in Europe. The Times Ireland obtained information regarding DCU's payment for the square under a freedom of information request. As part of the package DCU were guaranteed that there would be no other edition of Dublin Monopoly released, so they would feature on the board in perpetuity. It was also revealed that, as part of DCU's exclusivity deal, if another university also paid for a square on the board than their square would not be of a higher value than DCU's.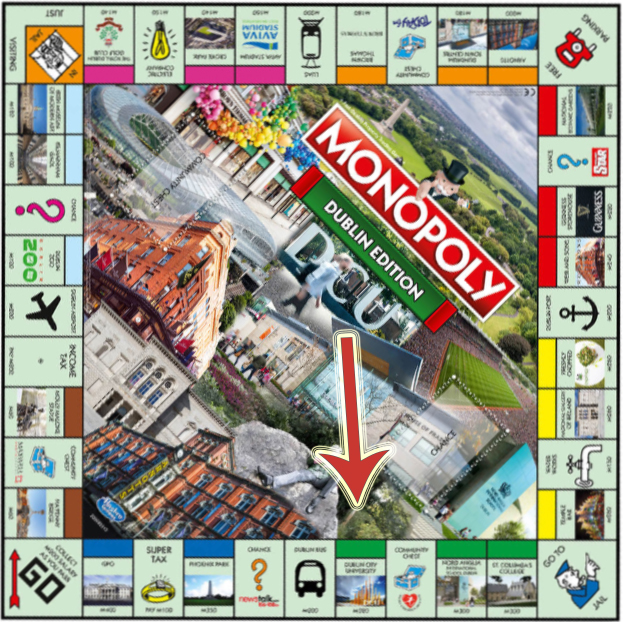 This freedom of information request revealed the correspondence between DCU's head of marketing, Deirdre Wynter, and Winning Moves concerning the deal and a truly bizarre exchange about subsidiary benefits.
As the majority of the board's squares were issued to those who had bought sponsorship rights for a square, as an added incentive to spur on sales, Winning Moves offered a limited number of 'community chest cards' to sponsors which would be allocated on a first-come, first-serve basis.
Advertisement
DCU took umbrage with Winning Moves' refusal to offer them a 'community chest card', as they had, by that point, all been claimed by other sponsors and DCU were instead offered a 'chance card'. Ms. Wynter claimed in a message to Winning Moves that it had already been "negotiated and agreed" that DCU should receive a community chest card, going on to add that "at no time in our communications was it indicated to me that the value of our community chest card was contingent on timings".
She then however added, "Because I don't play Monopoly, I don't quite know the difference between a community chest and a chance card."
DCU ultimately settled for a chance card set at a 'higher value'. This higher value grants the player in question the privilege to have graduated from DCU with a first-class honours degree. Quite how a small metallic iron could graduate from DCU - or any college -  with any kind of degree, let alone a first, is beyond me. Though physical limitations have never stopped them previously from becoming property tycoons so I suppose, in the world of Monopoly it is not that difficult to accept.
H/T: UniversityTimes.ie