Marking a positive move towards promoting sexual health, University College Cork's Student Union has announced that STI testing in the student health centre is now free.
The cost for the full screening which was previously €20, has been scrapped. In a Facebook post, the SU also noted that the swab/pee in a cup testing remains free.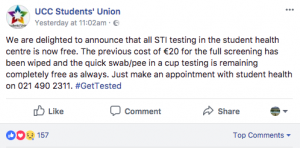 Cue jokes like 'Yes, we don't have to wait 'til payday now' or  'Thank god, I wanted to spend my last €20 on a jacket I have my eyes on in Penney's.' All laughing and joking aside, if you're sexually active, it's important to get regular Sexually Transmitted Infection tests.
A sexual health study published in December led to some concerning findings. The Durex survey revealed that young Irish people had a blasé attitude regarding STI's.
Advertisement
The study which questioned 500 people aged between 18 and 24, identified that 68% never had an STI check and 54% ever asked a new sexual partner if they had recently had an STI check. 36% said they would be too embarrassed to discuss the topic of STIs.
It's encouraging to see UCC's approach to promoting positive sexual health.