UCD Student Union head Katie Ascough is subject to a petition demanding impeachment from her current role.
Ascough has come under fire for her decision to question the legality of information regarding abortion in UCD handbooks to be given out to freshers. This led to the handbooks being reprinted with this information being amended.
The information removed from the magazine Winging It, which is handed out to first year students, included details on how to purchase abortion pills online and price lists for abortion clinics outside of Ireland.
The crux of the issue seems to be that providing this information is in breach of the Abortion Information Act of 1995, although the leaflet has almost identical information as it had last year. This was brought to the attention of the university's legal team who said that it was potentially in violation of the law to provide this information. s
As such Ascough spent €8000 euro to get the Winging It leaflet reprinted with the information retracted. Here is the information that was retracted: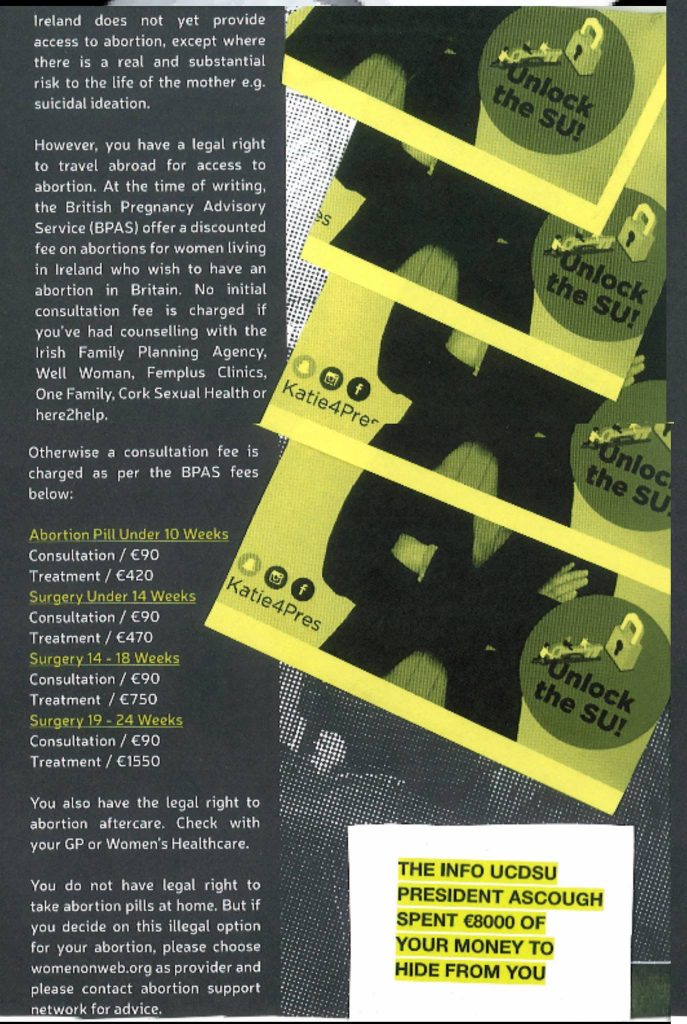 Speaking to the University Observer, Students' Union President Ascough explained why the original handbooks could not be handed out:
Advertisement
There was no date on the publication. There was an issue with the VHI section, it said that it was open to non-members which is not the case anymore. There were some wrong phone numbers in it, and there was some illegal content regarding abortion information.
A post on the Impeach UCDSU President Facebook page reads:
UCDSU President Ascough spent thousands of euro of our money to censor information about accessing safe terminations abroad and safe abortion pills online.

This act, unsupported by the other sabbatical members of the SU makes clear Ascough's dishonesty in her statement that she would "delegate" issues regarding abortion within UCDSU. Ascough is not delegating but is actively, and overtly overriding the stance of the SU and of UCD students.

UCD students have voted multiple times to remain a pro-choice university and the UCDSU President's attempts to undermine this are anti-democratic and shameful.
We demand the SU disperse the information censored by President Ascough and maintain their stance as unambiguously pro-choice.
The petition is currently being circulating throughout the campus.
In order to call for an impeachment of a President, in line with section 6.3 of the UCDSU constitution, a petition has to be signed by 3.5% of the union membership; the group behind the appeal are looking for just over a thousand signatures to support the petition.
Member of the group Amy Crean spoke to the University Observer on why Ascough's actions have caused such a stir among students:
The issue isn't that she holds any particular view, it's that she's letting it affect her position as a president. She is mandated to support a union that actively voted to be pro-choice. She is saying she won't go to the pro-choice march because it's out of hours. She denied extra funding to UCD for Choice and didn't want to be in the tent with them and she denied vital information on basic healthcare access to the entire student populous. If she had kept her views to herself and not let it affect her position as the president of the union it wouldn't be an issue. So it's not about her personal stance. It's that she's letting it affect her job negatively and that's impacting students' welfare.
Check out the original article in the University Observer here.