We adore Barcelona - don't get us wrong. The winding streets, the beaches, the museums, the sun and the night life. It's pretty fab. Yet, we decided here at College Times that there are more Spanish tourist attractions we need to experience! Here are some of the best spots to visit in Spain that aren't in Barcelona.
1. Benicassim
Benicassim is an annual festival that is one of the biggest for indie and rock in Europe. The festival is on the beach and looks amazing.
2. Alcázar of Segoria
Advertisement
It literally looks like a  fairytale castle. The castle inspired Walt Disney's Cinderella.
3. Port Aventura World, Salou
It's ranked in the top ten of Europe's theme parks. You can enjoy themed areas such as China, Mexico and the Far West.
Advertisement
4. Las Médulas
An hour and a half's drive from Leon airport. Why would you not want to see this gorgeous landscape?
Advertisement
5. La Tomatina
Do you want to throw tomatoes at each other all day? La Tomatina is held on a Wednesday at the end of August in Valencia.
Advertisement
6. Cuenca
Cuenca is not only a gorgeous city but is packed full of museums and cliff views. The city also has a national park.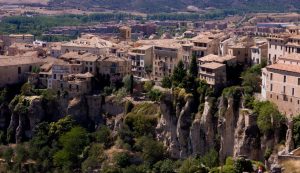 7. Júzcar ( Smurf Village)
Advertisement
It's a village full of blue houses nestled in the mountains! Who wouldn't want to see!
8. Andalucia, Seville
Go to Alhambra, known to locals as the Red Castle, and do some sherry tasting. The Cordoba mosque is a beautiful sight to behold with its cream and red colours.
Advertisement
I'm already searching for flights.
Follow us on Snapchat: @collegetimesct
Advertisement