The question isn't so much whether you get the perfect Christmas jumper, it's whether your dog gets the perfect Christmas jumper.
The popularity of Christmas jumpers has soared in recent years, as has people's need to buy clothes for their dog. Aldi has combined the two ideas and zoned in on them. From next week, the chain will be selling Christmas jumpers for dogs so if your pet is stuck for something to wear over the festive period, you needn't worry.
From Sunday, December 3 the jumpers will be going on sale in Aldi as part of their 'Special Buys' so get yourself down there if you're interested in pimping out your dog the festive period. Just in case your dog is fussy about Christmas jumpers, there will a few designs to chose from.
And they're all for €6.99
Advertisement
HOW cute would your dog look in these?!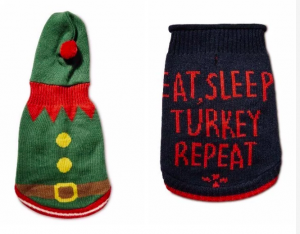 Adorable.